---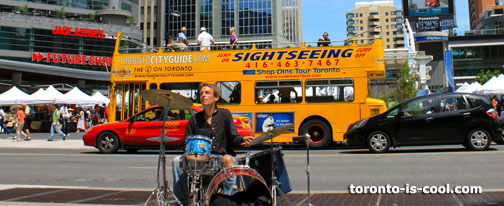 ---
Tours in Toronto
---
There are many choices for tours in this city. Some of these don't require too much expenses to shoulder. If you want it free, take the one organized by Gerard at the Metropolitan Church about Carillons. It's something most of us don't know but it's actually kinda familiar.
The guided visit at Roger's Center is worth your money. You get to see the world's first fully retractable roof. If you want to see Toronto from lake Ontario, there are boat excursions that will take you there while opening your eyes to the history of the edifices along Harbourfront Center.
1. Ride a bike at Toronto Island.
2. Take a city walking trek and check out Jane's walk.
3. Take a glimpse inside the CBC Building.
4.Find out what a Carillon is with Gerald at Metropolitan Church.
5. Discover the Steam Whistle Brewery, makers of Canada's Premium Pilsner!
6. Get on a Hippo Amphibus. A bus that is designed for both land and water allows for a very unique way to see the city of Toronto.
7. Be amazed at Rogers Center and the world's first fully retractable roof. It actually opens or closes in 20 minutes.
---
Go back to the top page of TOURS IN TORONTO

---
Tourist Attractions | Festivals | Dining | Gay Toronto | Museums | Shops / Flea Markets | Nightlife | Arts & Culture | Beaches | Explore Toronto Free | Tours | Parks | Sports | Around Toronto | Winter Events
---