---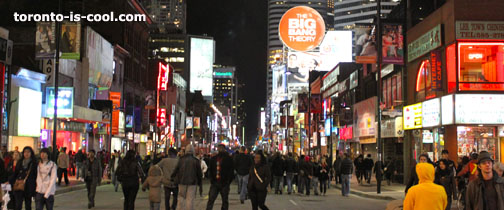 ---
Nightlife in Toronto
---
Nightlife in Toronto will always be the way you want it to be remembered.
This metropolis is full of places to satisfy your hedonism and love for debaucheries. This city is also home to well-known DJs known for its their fantastic music that will ensure you wild fun.
Fun, themed-parties are all year round---spread across the city, but mostly concentrated downtown. The King Street Street West and the Queen Street West are places to hang out if you want bar hopping within close proximities.
The Church Street caters to those with alternative lifestyles. Big clubs and small pubs are basically everywhere. Simply put, every street in this city has bars, clubs, pubs on it that caters to specific group of people or to all.
1. Explore Church Street, also known as the Gay Village. Members of the GLBT community will have a grand ball exploring the GAY BARS and GAY SAUNAS in this busy village.
2. Attend the Promise Party at The Beaches.
3. Check out Matador's a late night after hours club.
4. Be on TV. The Gladstone is a bar that transforms once a month to provide live television recordings with local guests that audience members can meet after the show.
5. The bars at King Street West never sleeps.
6. Alcohol, music and arts stuff blend well together at Queen Street West.
---
Go back to the top page of NIGHTLIFE IN TORONTO

Tourist Attractions | Festivals | Dining | Gay Toronto | Museums | Shops / Flea Markets | Nightlife | Arts & Culture | Beaches | Explore Toronto Free | Tours | Parks | Sports | Around Toronto | Winter Events
---