---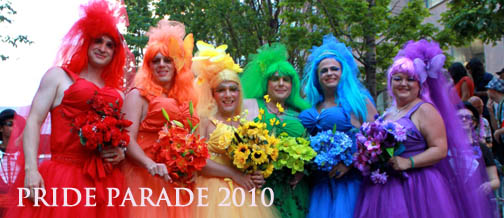 ---
Gay Toronto: Eveything You Need To Know
---
Canada is the 4th country to legalise same-sex marriage.
To say that Gay Toronto scene is fabulous is a cliche. In fact, it's more than that. It's vibrant, vivacious, feisty and resounding all at once. The Church Street (aka the Gay Village) is the center of all what the rainbow colors stand for. It's not just a long strip of bars and saunas and shops but it's also the center of gay politics.
During Pride Week and Pride Weekend, there are street parties in every street corner or parking lots. It's the street where you have nothing to hide. Just be yourself. Here's the fab LIST IN TORONTO's GAY SCENE.
Find fabulous information in these links:
1. Cool Gay Bars. Find out which bar in Church Street that sells more beers than any other bars in this city.
2. Gay Saunas. Explore the dark corner, relax and be yourself.
3. Toronto Gay Pride Parade. Join the 1.3 million people watching the parade. Or, be a part of it.
4. Dyke March Watch and learn and the dykes ride on their bikes.
5. Trans March. They used to be the "Invisible Children" but they're working to make their voice heard.
6. Toronto will host the 2014 World Pride.
7. Dance and get intimate with hunks at Aqua Pride: The Hottest Party in Summer.
---
Go back to the top page of Gay Toronto
---
---
Tourist Attractions | Festivals | Dining | Gay Toronto | Museums | Shops / Flea Markets | Nightlife | Arts & Culture | Beaches | Explore Toronto Free | Tours | Parks | Sports | Around Toronto | Winter Events
---