---
---
World Pride 2014 in Toronto
---
Yes, Toronto will host World Pride in 2014!
It's still 4 years from now but Pride Toronto is getting ready and excited to welcome all queers and their allies to this city and show them, prove them why Toronto should be the gay capital of the world!
WHEN: June 27 - July 6, 2014
WorldPride is organized by InterPride. It promotes Lesbian, Gay, Bisexual and Transgender (LGBT) issues and concerns on international level. Parades, Festivals and cultural activities will be expected during this event.
---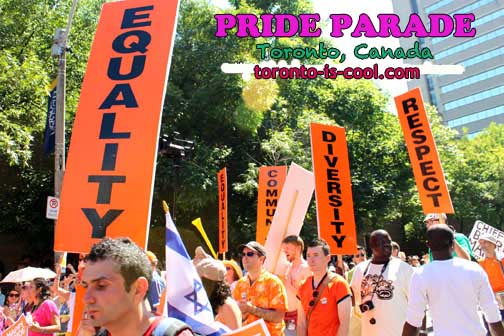 ---
"WorldPride 2014 in Toronto will include: an opening ceremony reminiscent of the Barcelona and Atlanta opening ceremonies; an international human rights conference; a variety of networking and social events including Canada Day and Independence Day (United States) celebrations and an exhibition commemorating the 45th anniversary of the Stonewall Riots.
Pride Toronto officials said that Pride Week 2009 drew an estimated one million people to Toronto and contributed C$136 million to the city's economy, and state that they expect WorldPride to be significantly bigger."
---
Related Links:
World Pride
Aqua Pride: The Hottest Party in Pride Week
Pride Parade
Gay Bars in Toronto
Gay Saunas
---
---
Tourist Attractions | Festivals | Dining | Gay Toronto | Museums | Shops / Flea Markets | Nightlife | Arts & Culture | Beaches | Explore Toronto Free | Tours | Parks | Sports | Around Toronto | Winter Events
---