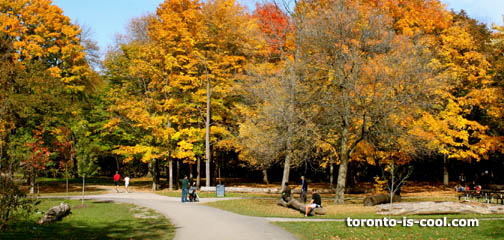 ---
Parks in Toronto
---
Toronto is green and encourages green. The city has so many parks maintained by the city itself or by the province. Some are big and some are small. In summer, children frolic in the green meadows, under the shades of the trees and under the heat of the summer sun. Dogs play and walk with their friends and adults read on benches or just watch people as they go by. There are various activities in many of the parks: outdoor theater, pics, fitness programs, etc...
In winter, some of these places are turned into venues to play winter sports.
1. Checking out the view of Toronto from hill next to Brickworks
2. High Park is pretty busy in summer but you should see an outdoor performance called, "Dream in High Park."
3. Get your tan or read a book at Sunnyside Park beaches.
4. Stroll and admire the foliage at Tommy Thompson Park.
5. Picnic, swim and camp fire at Scarborough Bluffs.
6. Picnic in Morningside Park.
7. Sunnybrook Park (horses are in the back of the park, in the stables)
8. Read a book in Queen's Park Spring/Summer/Fall which is also home to Ontario Legislative Assembly
9. Visit Ireland Park down at the Waterfront.
---
Go back to the top page of PARKS IN TORONTO

Tourist Attractions | Festivals | Dining | Gay Toronto | Museums | Shops / Flea Markets | Nightlife | Arts & Culture | Beaches | Explore Toronto Free | Tours | Parks | Sports | Around Toronto | Winter Events
---