---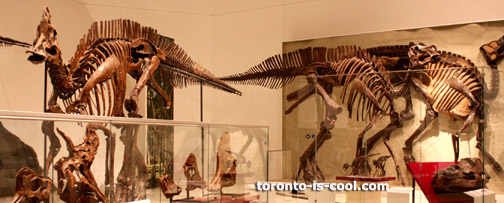 ---
Museums & Historical Places
---
Museums and other historical places are well-preserved and maintained in this city.
Though the city is a face of modernity, one could still find the relics of old yore. You don't even need to go out of this city to find Old Toronto. They are living histories that refuse to die because Torontonians care and understand its cultural significance in modern times.

Explore the times past in the our list below:
1. Royal Ontario Museum. Come face to face with a dinosaur and wonder at the ancient civilization from Egypt to China to Canada.
2. No trip to this awesome metropolis is complete without visiting the Hockey Hall of Fame, where you can try to score against a virtual Gretzky.
3. Get your hands on the ceramic wheel at the Gardiner Museum on Fridays and Sundays for children and adults! This place has 3,000 pieces as its permanent collection.
4. "Sex and City" declares that "There's a little Imelda in all of us!" Bata Shoe Museum is a delight to see. There are over 10,000 pieces of footwear on display from 4,500 years ago until present. See the shoes worn by JUNO winners and nominees (Avril Lavigne, Shaina Twain, Michel Buble, Bryan Adams, etc...)
5. On your way to Harbourfront, drop by the Museum of Inuit Art and be blown by the prehistoric to contemporary art displays.
6. Check out one of the many historical churches in the city like; St. Michael's, St. James', St. Patrick's, etc..
7. Check out the Working and Historical Post Office on Adelaide St East.
8. Visit any historical houses that are now open to the public Mackenzie, Spadina Museum, etc..
9. Visit Black Creek Pioneer Village. It is living history. Experience how people lived in the 1800s.
10. Visit the Campbell House. This building has double importance. It's the oldest building remaining from the city of York and was the home of Sir William Campbell.
11. Learn about boat making at the Pier. Despite the name, this is actually a historical house/building where interactive displays teach you all about building boats.
12. Remember the fallen. At the Holocaust Center in Toronto, you can view memories of those who survived the Holocaust, as well as those who didn't.
13. Experience the textures at the Toronto Textile Museum. Whether you are interested in textile arts or not, this is a very impressive collection of techniques and fabrics.
---
Go back to the top page of MUSEUMS & HISTORICAL PLACES IN TORONTO

Tourist Attractions | Festivals | Dining | Gay Toronto | Museums | Shops / Flea Markets | Nightlife | Arts & Culture | Beaches | Explore Toronto Free | Tours | Parks | Sports | Around Toronto | Winter Events
---