---

---
Where To Eat in Toronto
---
Where to eat in Toronto? Worry not. There are over 10,000 restaurants here. Each cafe, restaurant and neighborhood offers great, delectable, glorious food that satisfies every hungry stomach. From fine dining to diners to take-out food outlets, Torontonians always have a choice for food they want to eat and try. Watch out for food festivals in this city and commit the sin of gluttony which will be forgiven, of course, when your excuse is, "I eat this stuff once a year.
So... Dig in to our LIST OF GLORIOUS PLACES TO EAT and immerse yourself to the culinary delight in this megacity.
WHERE TO EAT:
RESTAURANTS / CAFES / NEIGHBORHOODS
1. Little Italy. If you can't go to Italy to eat and experience what Julia Roberts had, have some good Italian pasta in this neighborhood of Italian restaurants and bars.
2. Greektown. Eat Souvlaki on The Danforth. This neighborhood shines during its own 3-day festival in summer, the Taste of the Danforth.
3. Little Portugal. Salivate yourself on Portuguese food and don't ever forget to imbibe a Portuguese red wine.
4. Chinatown. They're all over the city but for the real good taste and feel of China, head to this area and practice your chopsticks skills.
5. Little Korea. Have some kimchi and shop for some Korean fashion.
6. Winterlicious 2011. It's the only food festival with a fine dining setting in winter that is worth your money.
7. Eat at the world's only Hungarian-Thai Restaurant in Kensington Market
8. Dine at the famous Chef's Restaurant.
9. Eat corn on the sidewalk in Little India in the summer.
10. Go buy some Whiskey Cheddar from Global Cheese in Kensington Market and eat it because it is seriously delicious.
11. Fair Trade coffee & delicious sandwiches at Tinto's on Roncesvalles.
12. Sample honey at St. Lawrence Market.
13. Go for an ice cream at the Dutch Cafe (funny building and awesome assortment of ice cream!)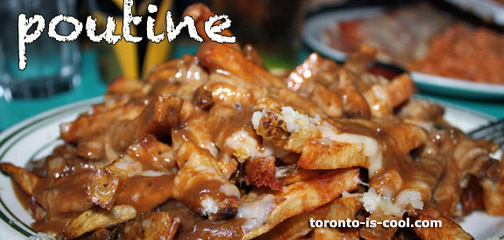 14. Dive into Pomegranate deliciousness at Marouf Tochal (everything is made of pomegranate: juice, dried fruit, ice cream, marmelade...YUM!)
15. Enjoy an aperitif with view from the rooftop bar of the Park Hyatt.
16. Brunch in St. Lawrence Market.
17. Eat at Zelda's (On Yonge Street)
18. Sample Polish or Ukranian desserts in Roncesvalles/Bloor West Village
19. Have poutine at and get hammered at Sneaky Dees for cheap drinks.
20. Have a hot chocolate at Soma in The Distillery District
21. Travel back in time. The Medieval Times is a dinner theater where you can enjoy a good old-fashioned tournament while feasting on traditional medieval food.
---
---
Go back to the top page of WHERE TO EAT IN TORONTO
Tourist Attractions | Festivals | Dining | Gay Toronto | Museums | Shops / Flea Markets | Nightlife | Arts & Culture | Beaches | Explore Toronto Free | Tours | Parks | Sports | Around Toronto | Winter Events
---