---
---
Hungarian Thai Restaurant
---
The only Hungarian Thai restaurant in the world is in the busy street in the middle of Kensington Market in Toronto. It serves, of course, Thai and Hungarian food. It is a medium-priced for a really good food. Both cuisine of the East and the far East are equally awesome. You get to experience the culinary delights of both worlds by ordering their Hungarian Thai combo in the menu. Of the two, the thai ($9-$15) menu is more pricey than the hungarian ($4-$19) menu. They also have vegetarian choices. Desserts are also available. The amount of serving is usually enough for two people.
The atmosphere is somewhat cheesy and tropical but it's clean and feels like you are somewhere in the tropics (you need that feeling, when it's winter in this city). Though the place is quite small, the tables are nicely and well-arranged. In summer, grab a seat at the patio where you can see and hear the sights and sounds of Kensington Market in a sunny afternoon.
---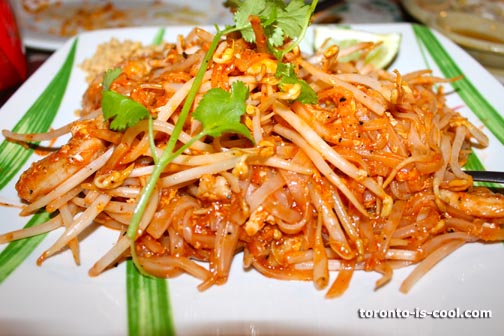 ---
Hours of Operation / Direction
---
Hours of Operation:
Monday - Thursday : 11:30 am - 10:00 pm
Friday - Sunday: 11:30 am - until late


Address:
196 Augusta Ave
Toronto, ON M5T 2L6
Neighbourhood: Kensington Market
Telephone: (416) 595-6405


Direction / How to get there:
Nearest subway: Get off at Spadina Station

Streetcar: Then, take the 301 streetcar. Get off at Nassau Street.
Walk to your destination: Depart and head South on SPADINA AVE (42 metres), turn right at BALDWIN ST (260 metres), turn left at AUGUSTA AVE (21 metres). Total walking distance: 323 metres. Total walking time: 4 minutes.
Website: www.hungarythai.com/
---
Go back to the top page of Hungarian Thai Restaurant

Tourist Attractions | Festivals | Dining | Gay Toronto | Museums | Shops / Flea Markets | Nightlife | Arts & Culture | Beaches | Explore Toronto Free | Tours | Parks | Sports | Around Toronto | Winter Events
---