---
Bata Museum: Canada on Foot
---
Bata Museum is Toronto's unique museum of shoes. If have a closet full of shoes, like Imelda Marcos, this museum is a delight in your eyes. It's not a boring place that you always associate with museums, but it's a place not just to learn and marvel at the shoes but also to try them on. Yes, you can try some of them!
The world-renowned Bata Museum is your point of entry to the cultures of the world. From ancient Egypt to Greece to China and to India, shoes were used as a social status that determines your place in the society. Shoes were used to be hidden under women's long dresses, but it's not anymore the case today. Shoes add class, sex appeal and unexplainable sexiness to the one's wearing it.
Where to start:
When visiting the Bata Museum, it's a good thing to start from the 3rd floor, down to the second floor, then take the lift to the basement and use the stairs up to the ground floor.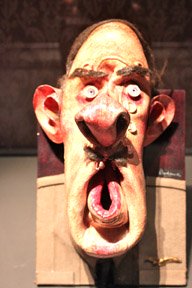 THIRD FLOOR: Art in Shoes-Shoes in Art
Here, you'll find caricatures of shoemakers and woodblock prints from 15th to 20th century. The shoe photo on your left is a caricature of a French officer. Using an actual shoe, Dominique Bordenave (the artist), transformed it into a humorous art piece.
Also on this floor, you can find shoe designs were will blow your mind away. These shoes can't even be worn but they're sexy and artistically made!
Do you know that shoemakers have their own patron saint, too? Go and find out who. Yes, on this floor.
---
---
SECOND FLOOR: BEAUTY, IDENTITY AND PRIDE
This floor is a display of native North American footwear which were made with flawless skill and art that would left any visitor in admiration. The craftsmanship is such a beauty and every shoe designs were labours of artistic hands.
Also on this floor, but on a separate room, is a place dedicated to the invention of early socks to stockings--from thick to thin to short and long.
---
---
BASEMENT FLOOR: ALL ABOUT SHOES
From the second floor, take the elevator down to the basement.
When entering the premise, start on your left. This part of Bata Museum is a long journey---from mankind's first step to Manolo Blahnik.
See the ancient shoes from early European shoes (The Otzi Man), Ancient Egyptians, Greeks and Romans, Anazasi, India, Africa and China.
Marvel at the designs of a specific period of our history: Gothic, Renaissance, Tudor, Baroque and Racoco.
Shoe designs were also influenced by religions: Islam, Buddhism, Christianity, Judaism, Hinduism and Ramayana.
The first three decades of the 20th century saw the revolutionized styles of shoes. They're glamorous, sexy and women began to show it from under. In the next decades, women's shoes were redefined and became a hot commodity. On this display room, you'll find shoes designed by Roger Vivier and Manolo Blahnik, whose shoes play a central part of the women in the TV series, "Sex and The City."
---
---
GROUND FLOOR: STAR TURNS--FAMOUS FOOTWEAR
From the basement, take the stairs up to the ground floor. Here, you'll be start-strucked.
To celebrate the 40th anniversary of JUNO, Canada's version of Grammy Awards, 40 JUNO winners and nominees gave up one of their shoes for display in Bata Museum. You'll be surprised how tiny Avril Lavigne's feet are and how big are Bryan Adams' or Michael Buble. Shania Twain's shoes are chic and Drake's are, well, big too. :)
---
HOURS OF OPERATION:
Monday, Tuesday, Wednesday, Friday and Saturday (10:00 am - 5:00 pm)
Thursday (10:00 am - 8:00 pm)
Sunday (12:00 noon - 5:00 pm)
---
---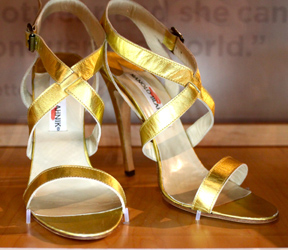 ADMISSION FEE: (As of July 10, 2010
Adults: $14; Senior citizens: $12; Students (with ID): $8; Children (5-17 years inclusive): $5; children under 5 are free
Families (1 adult, up to 4 children under 18): $24
Families (2 adults, up to 4 children under 18): $35
Bata Shoe Museum MEMBERS are Always FREE!
Every Thursday evening between 5 and 8 pm, admission is Pay-what-you-can, with a suggested donation of $5
Note: Different policies and pricing are in effect during March Break
---
DIRECTION:
Address: 327 Bloor Street West
Nearest Subway:
St. George Subway Station. Take the St. George Street Exit. Then, walk on your left. It's right there at the corner of Bloor Street West and St. George Street.
---

Return to the Top of Bata Museum.
Tourist Attractions | Festivals | Dining | Gay Toronto | Museums | Shops / Flea Markets | Nightlife | Arts & Culture | Beaches | Explore Toronto Free | Tours | Parks | Sports | Around Toronto | Winter Events
---