---
Royal Ontario Museum: Your Window to Toronto and the World
---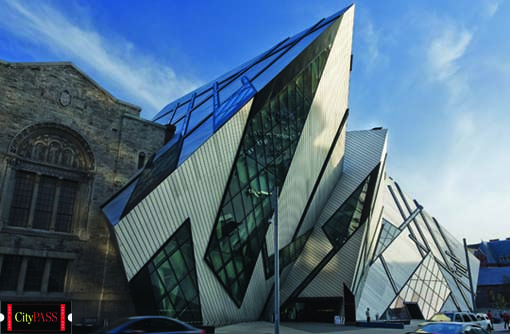 ---
The
Royal Ontario Museum
or simply
ROM
to the locals is every visitor's guide to Canada and the world. Unlike any other museums where there are limited space for exhibits, ROM is one world so diverse in collections. It's one of Toronto's most visited tourist attractions. It has Exhibition Spaces, World Culture Galleries, Natural History Galleries and Hands-On Galleries. These galleries each have amazing artifacts and displays that date back to ancient times and ones that encourage hands-on discovery and appreciation suitable for the little kids.
Every continent is being represented in this huge museum. Every artifacts are labeled in details. Every gallery has a world of its own. Every thing is worth seeing.
WHAT TO SEE ON EVERY LEVEL / FLOOR
---
LEVEL 1
Japan, Asia Special Exhibitions, China, Korea, Canada, First People, Library and Archives and Learning Center
On this floor, The Must-See Iconic Treasures of Royal Ontario Museum (ROM) are: Ming Tomb, Death of Wolfe, Totem Poles and Paradise of Maitreya Mural
LEVEL 2
Dinosaurs, Mammals, Discovery Gallery, Birds, Bat Cave, Hands-on Biodiversity, Canadian Mining Hall of Fame, Gems and Gold, Minerals, Special Exhibitions and Life in Crisis
On this floor, The Must-See Iconic Treasures of Royal Ontario Museum (ROM) are: Barosaurus, White Rhino, Tagish Lake Meteorite and "Light of the Desert" Cerussite Gem
LEVEL 3
Africa, the Americas and Asia Pacific, Middle East, South Asia, Egypt, Ancient Cyprus, Bronze Age Aegean, Greece, Future Galleries, Europe: Evolution of Style, European Special Exhibitions and Europe: Themes and Collections
On this floor, The Must-See Iconic Treasures of Royal Ontario Museum (ROM) are: The Bust of Cleopatra, Statue of Sekhmet, Earl of Pembrake's Armour, Bule Lady and Striding Lion
LEVEL 4
Textiles and Costumes, Institute for Contemporary Culture and Roloff Beny Gallery
---

TOP 10 ROYAL ONTARIO MUSEUM (ROM) FAMILY FAVORITES
1. Sitting Bull's Headdress is at Daphne Cockwell Gallery of Canada: First Peoples.
Sitting Bull was chief of the tribe called Sioux. He is known as the leader who defeated General Custer's Seventh Cavalry at the Little Bighorn Battle. (Level 1)
2. Samurai Warrior Armour is at Prince Takamado Gallery of Japan The Samurai armour on displays dates back from the 17th century. The Samurai in Japan are warriors who accompanied a person of higher ranks in the society. The most notable weapon they have is the sword. (Level 1)
3. Q The Pterosaur is at James and Louise Temetry Galleries of the Age of Dinosaurs The Q stands for Quetzalcoatlus northropi. It's the largest flying reptile ever to have lived on earth! (Level 2)
4. Gordo The Barosaurus is at James and Louise Temetry Galleries of the Age of Dinosaurs Gordo, as he is affectionately called, is Canada's largest dinosaur on display. It's the only Barosaurus which contains almost all real fossils mounted anywhere in the world! (Level 2)
5. Amethyst is at Teck Suite of Galleries: Earth's Treasures This amethyst is over 100 million years old! See it and marvel at it's shining beauty! (Level 2)
6. Southern White Rhinoceros is at Schad Gallery of Biodiversity See this huge beast which weighs 4,500 pounds! It lived in Toronto Zoo until it died in 2008. (Level 2)
7. Coral Reef is at Schad Gallery of Biodiversity See this huge aquarium filled with colorful marine life and school of fish. (Level 2)
8. World-record Moose is at Patrick and Barbara Keenan Family Gallery of Hands-on Biodiversity This moose has antlers measuring 1.79 meters--a world-record! (Level 2)
9. Egyptian Coffin and Mummy is at Galleries of Africa:Egypt Don't be scared. This mummy is not the one you saw at the movies. It's harmless. Djedmaatesankh, the mummy, died almost 3,000 years ago of a ----toothache! (Level 3)
10. Shrunken Head is at Shreyas and Mina Ajmera Gallery of Africa, Americas and Pacific The head looks scary in our modern times. In Shuar culrure, native to Peru and Ecuador, it was believed that taking the enemies' heads and shrinking them would calm the enemy's avenging soul. (Level 3)
---
ADMISSION FEE
| | |
| --- | --- |
| Ticket Types | General Admission |
| Senior (65+ years, with ID) | $21 |
Persons with disabilities: Full admission price with free admission for one attendant
Fridays: Half price, from 4:30-9:30 P.M.
If you want to get a cheaper deal (50% off) for 5 most-visited tourist attractions in Toronto, you should get a CITY PASS!

HOURS OF OPERATION
| | |
| --- | --- |
| Monday to Thursday | 10 am - 5:30 pm |
| Saturday and Sunday | 10 am - 5:30 pm |
Open all year round, except Christmas Day.

DIRECTIONS
Address:
Royal Ontario Museum
100 Queen's Park
Toronto, Ontario, M5S 2C6, Canada
Nearest Subway: Museum
The entrance is on Bloor Street West (in front of McDonald's)

WEBSITE: www.rom.on.ca
---
TORONTO's TOP 5 COOL TOURIST ATTRACTIONS
CN Tower
Casa Loma
Ontario Science Center
Royal Ontario Museum
Toronto Zoo

Return to TORONTO IS COOL homepage.
---
Tourist Attractions | Festivals | Dining | Gay Toronto | Museums | Shops / Flea Markets | Nightlife | Arts & Culture | Beaches | Explore Toronto Free | Tours | Parks | Sports | Around Toronto | Winter Events
---