---
Ontario Science Center
---
---
Do you believe in mythic creatures, like dragons, unicorns and mermaids? The
Ontario Science Center
(OSC) has the answers to this question---whether you believe them or not. And contrary to what you believe, OSC is not just for the young kids and teens but also for the inquiring adults. Everyone, no exception, is fascinated by science--and we never get tired of it!
The Science Center is one of Toronto's most visited tourist attractions.
True its mission, the Ontario Science Center delights, informs and challenges visitors through engaging and though-provoking experiences in science and technology---that would leave you in awe, wonderment and curious. This is the most fun and interactive science center / museum I've ever been to where I could touch and feel things and even manipulate! Visitors can interact, engage, experience, innovate and explore! An adult could be like a kid again once he / she interacts with things in the center.
Once you leave the Center, you will love science again! :)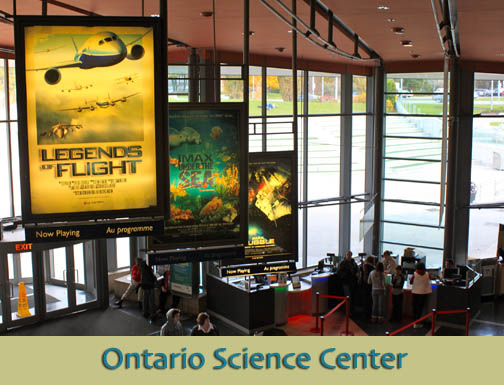 ---
DID YOU KNOW...
... that The Legend, John Lennon and his wife, Yoko Ono held a press conference at Ontario Science Center where he was asked, "Don't you think your long hair and your clothes may put old people off in your pursuit of peace?"
... that OSC was used as a film location of a hollywood production, Gorillas in the Mist starred by Sigourney Weaver?
... the screen projector at IMAX cinema weighs 900 kgs?
... the Canadian astronaut Dr. Roberta Bondar made a conference call to the Science Centre from the orbiting Space Shuttle?
WHAT TO DO AT ONTARIO SCIENCE CENTER:
For family and kids:
I'd recommend the KidSpark where children learn things and concepts through play with the adults, like parents and nannies. It's a fun and engaging way for kids to love science in the most enjoyable way. Children can record their own voice or get wet, cook a make-believe meal, create shapes, build a roller coaster and even experience life at the market! So, be warned: if your kid is super hyper / active, bring extra clothes. Kids are kids.
For teenagers:
There are various events for the teenagers. These programs are challenging that appeals to the young mind. The Center's Sci Fri is a unique, fun event every Friday---and it's free! Teens who have passion for learning science can join the Science School where they gain priceless experience in a subject they love.
For adults:
Head to IMAX cinema and take a really comfy seat. Enjoy the future of films! Or, if you want food and science discussions in one place---sit and relax at the Cafe Scientifique, a place to learn and discourse about latest stuff and issues in science and technology.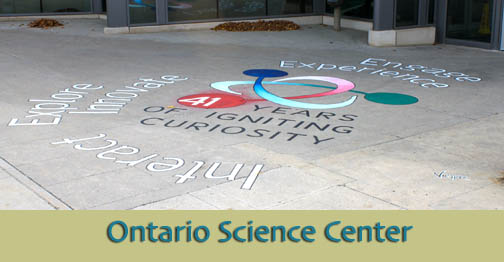 ---
ADMISSION FEE:
Adults: $20 (Science Center only); $13 (Imax film only); $28 (Imax and Science Center)Children: $13 (Science Center only); $9 (Imax film only); $19 (Imax and Science Center)Youth (with school ID): $16 (Science Center only); $9 (Imax film only); $22 (Imax and Science Center)
If you want to get a cheaper deal (50% off) for 5 most-visited tourist attractions in Toronto, you should get a CITY PASS!

HOURS OF OPERATION:
Everyday, 10am to 5:00pm.

DIRECTIONS:
Get off at Pape Subway Station.Take the Bus Route #25 to Don Mills StationGet off at St. Dennis Drive.The Ontario Science Center is right in front of it.
Or get off at Don Mills Subway StationTake the #25 bus to Pape StationGet off at St. Dennis / Ontario Science Center

ADDRESS:
Ontario Science Centre
770 Don Mills Road
Toronto ON M3C 1T3
Telephone Number: 416-696-1000 or toll free 1-888-696-1110

FACILITIES: Parking (for cars and buses), vending machine (for drinks and junk food), lockers, lunchroom, ATM, Pay Phone

MORE INFO:Check OSC's website for special exhibitions and other seasonal programs: http://www.ontariosciencecentre.ca
---
TORONTO's TOP 5 COOL TOURIST ATTRACTIONS
CN Tower
Casa Loma
Ontario Science Center
Royal Ontario Museum
Toronto Zoo

Return to TORONTO IS COOL homepage.
---
Tourist Attractions | Festivals | Dining | Gay Toronto | Museums | Shops / Flea Markets | Nightlife | Arts & Culture | Beaches | Explore Toronto Free | Tours | Parks | Sports | Around Toronto | Winter Events
---