---
Casa Loma: A Grand Castle
---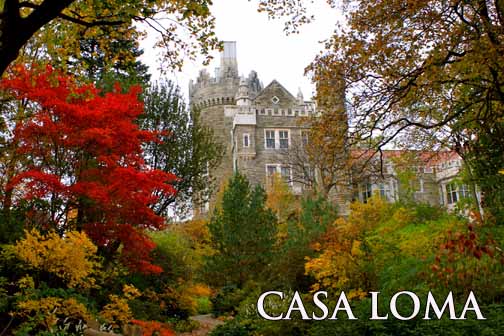 ---
Casa Loma is not just a grand castle but also a magnificent one! It's a testament to Toronto's history. No doubt, this castle which combined Neo-classical, Gothic and Romanesque styles, is a top tourist destination in architecture in this city. Visiting Casa Loma is going back to the time of Toronto's rich history and humble beginnings.
The castle was once owned by a millionaire who later lived in a farm---and died nearly penniless. Between those two extreme social status is a story of Sir Henry Pellatt, a Canadian financier who had a sharp business acumen that turned him into a multi-millionaire. He was so rich that he once contributed to 25% of Canada's economy! But such same business acumen was also the one that brought him down to bankruptcy.
Today, the proof of his vast wealth is open to the public to experience and learn the life of a millionaire whose fascination with European castles was impeccable.
Casa Loma's interior is exquisitely detailed with carvings and paintings that cost an arm and a leg. Though there are some parts of the castle that are unfinished, the grandiosity of this architecture totally rocks!
---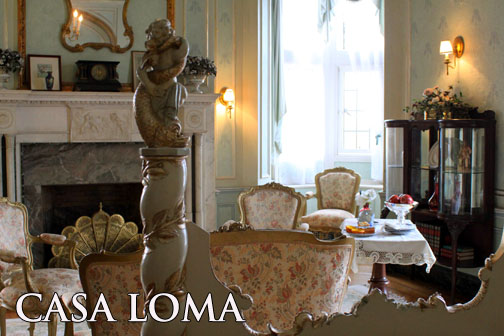 ---
DID YOU KNOW...?
... that Casa Loma castle was used as a location for the Hollywood film, Scott Pilgrim v.s. The World (released in summer 2010), starring the Ontario-born actor, Michael Cera?
... that Casa Loma is a Spanish word for "house on the hill?"
... was worth $3.5 million at the time it was built?
... that the castle was once a hotel (after Sir Henry Pellatt left due to bankruptcy) before it was opened to the public as a tourist attraction?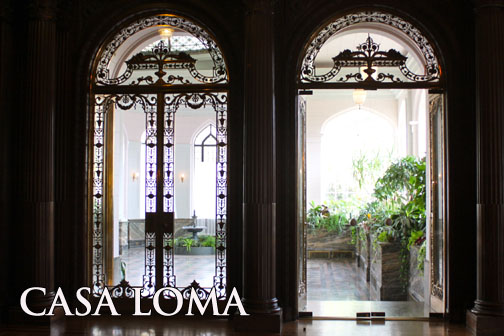 ---
WHAT TO DO:
- Once you enter Casa Loma, get a multi-media self-guided tour in English, Italia, Mandarin, Korean, Japanese, German, Spanish and French. American Sign Language is also available. There are audio descriptive tours for the visually-impaired in English and French. These multi-media are excellent companion to fully understand the history and descriptions of each halls, room, floors and secret alleyways.
- Climb to the highest peak of the tower and you'll see the stunning view of the city of Toronto.
- Touch and feel the doors and walls and windows while listening to the multimedia. There's something about them that connects you to the past.
- Look or stare at the paintings on the wall closely.
- Explore the gardens. Sit in one of the benches while admiring the beauty of the mighty castle. Best in summer.
- Watch the short documentary of Sir Henry Mill Pellatt's life in the video room.
- Buy some souvenirs.
- And guess what, you can have your birthday, wedding reception and parties here, too! Of course, with a fee. :)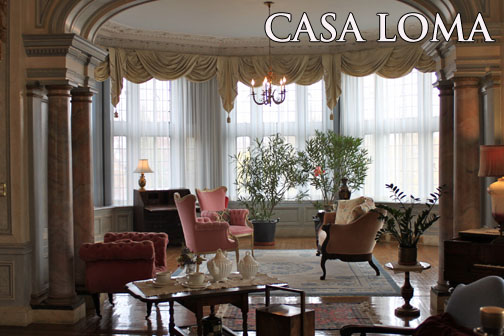 ---
HOURS OF OPERATION:
Open daily from 9:30am - 5:00pm. Be there before 4:00pm.
Only until 1:00pm on December 24th.
Closed on December 25th (Christmas Day)
ADMISSION FEE:
| | | | |
| --- | --- | --- | --- |
| Adults (18 - 59), $20.55 | Seniors (60 +), $14.63 | Youth (14 - 17), $14.63 | Children (4- 13), $11.32 |
If you want to get a cheaper deal (50% off) for 5 most-visited tourist attractions in Toronto, you should get a CITY PASS!
PARKING
Per hour charge of $3.00
Maximum charge of $9.00
DIRECTIONS:
Get off at Dupont Station.Exit at Spadina and Dupont Road WEST side.When you are at the corner, walk on your left.Pass by under the bridge and continue walking until you reach the Daveport where you can find the Baldwin steps (110 steps)
Website: http://www.casaloma.org
---
Go back to the top page of Casa Loma
Tourist Attractions | Festivals | Dining | Gay Toronto | Museums | Shops / Flea Markets | Nightlife | Arts & Culture | Beaches | Explore Toronto Free | Tours | Parks | Sports | Around Toronto | Winter Events
---