---
CN Tower: World's Second Tallest Tower
---
---
Toronto has its fair share of architectural wonder. The CN Tower is one of the testaments to that. It is one of Toronto's top tourist destination that every tourist, I should say, MUST visit. It's not any other tower you've been to.
If you think you're not afraid of the heights, wait until you're on the topmost part of the CN Tower. You must experience walking or facing down on the 24 sq meter glass floor and feel the thrill and beating of your heart---assuming it still beats once you tap your feet on the glass floor.
DID YOU KNOW...?
... viewed from afar, the CN Tower looks like a needle?
... it was built for 40 months (February 1973 - June 1976), the structure became Toronto's symbol that dominates the city's skyline?
... it's the tallest free-standing structure in the Western Hemisphere?
... it measures 553.33 meters (1,815 ft., 5 inches)?
... it's the no. 2 tallest tower in the world?
... the elevator runs at 6 meters/second or 20 feet/second?
... the revolving restaurant completes its rotation at 72 minutes---with the magnificent view of the city 1,815 ft. below?
... the original cost of building the CN tower was $63 million?
... it weighs over 130,000 tons-which is the same weight as 23,214 large elephants?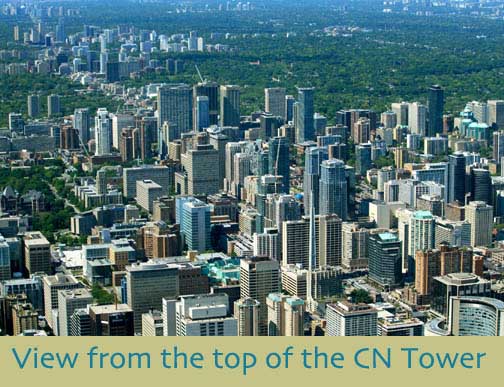 ---
THINGS TO DO
* Step or lay face down on the glass floor for minutes and get used to it. It's breathtaking and you could really feel your hearts stops breathing for a second or two. Or more.
* Eat or propose at the 360 degree revolving restaurant (The Restaurant at the Tower)---if you got some more dollars.
* Enjoy and take a lot of photos of Toronto's panorama.
* On a clear, sunny day, it's a good game with your friends to spot where Niagara and / or Buffalo, New York is.
* Watch the film on how this architectural feat was made. (10:00am - 10:00pm). Last full show at 9:00pm.
* Go shopping at the tower's shop (Marketplace Retail Store), right there at the elevators exit on the ground floor. It's always nice to carry a memorabilia of/from the tower.
HOURS OF OPERATION:
Except on Christmas Day, it's open 365 days a year.Reception desk opens at 8:30 amThe Look Out, Glass Floor and Sky Pod levels are open from 9:00am-10:00, Sunday to Thursday; 9:00am-10:30pm, Friday and Saturday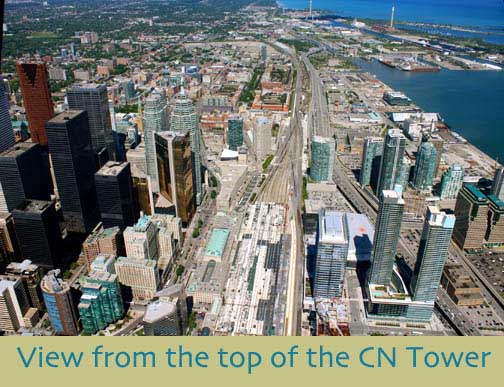 ---
ADMISSION FEE:
All ages: Look Out, Glass floor and Skypod levels + Motion Theater Ride = 34.99 + tax (in Canadian dollars)
Look Out, Glass Floor and Skypod Levels:Adult (13-64) $27.99 + taxSenior (65+) $24.99 + taxChildren (4-12) $21.99 + tax
If you want to get a cheaper deal (50% off) for 5 most-visited tourist attractions in Toronto, you should get a CITY PASS!
Visit HERE for more PRICE info.http://www.cntower.ca/plan_your_visit/rates/rates/
DIRECTIONS / HOW TO GET THERE:
Address: 301 Front Street West and John Street. It's between the Sky Dome or Rogers Center and the Metro Toronto Convention Center on Front Street.
By subway: Get off at Union Station. Once you get out, look up and you'll see the tower. You don't need to ask people for directions. Like the lone star that guided The Three Wise Men to Bethlehem, the tower is your beacon for direction.
---
TORONTO's TOP 5 COOL TOURIST ATTRACTIONS
CN TOWER
Casa Loma
Ontario Science Center
Royal Ontario Museum
Toronto Zoo

---
Tourist Attractions | Festivals | Dining | Gay Toronto | Museums | Shops / Flea Markets | Nightlife | Arts & Culture | Beaches | Explore Toronto Free | Tours | Parks | Sports | Around Toronto | Winter Events
---