---
Toronto Gay Bars
---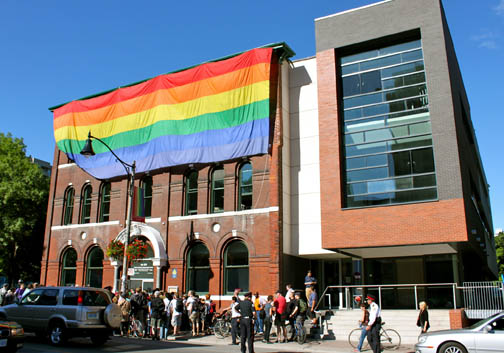 ---
Much of the concentration of Toronto gay bars is in Church Street, also known as the "Gay Village", or just "The Village" amongst the Lesbian, Gay, Bisexual and Trans-gendered (LGBT) community. It's here where everything fabulous happens 24/7. It's here where all kinds of debaucheries happen all year-round.
These bars are alive with fabulous, sexy, sassy, hot LGBT people who live and party their life in one rainbow-colored flag. Most gay bars have their own resident or guest DJs who play music that meant to seduce, flirt and have fun. The dance floors are never empty with people having fun, making out or just plain dancing.
Though the Gay Village mainly caters predominantly to LGBT clients, heteros are very much welcome to Toronto's most lively, most fabulous village!
NOTE: Going inside these bars NEED a valid ID. So, don't forget that. Or else, you'll be left in a cafe nearby.
NEAREST SUBWAY: The nearest subway station is, Wellesley. Walk on your left when you get out of the station.
---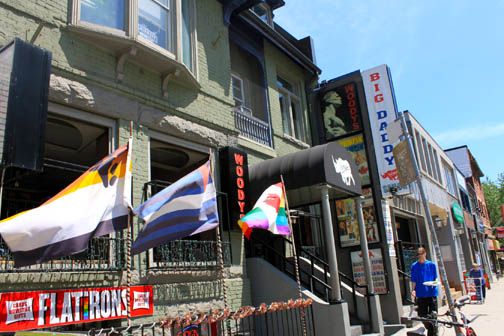 ---
Address: 467 Church St. / Telephone: 416 972 0887
This bar is perhaps Church Street's most recognizable landmark gay bar for men. Delicious bartenders, (especially Dave, 2010's Best Bartender) who'll left you drooling, serve drinks with a smile that melts your heart. It has been said that this bar sells most bottles of beer than any bar in Toronto. This bar was featured in Queer As Folk TV show. Find the hottest men here. See the "Best Ass Contest" on the weekends.
---
Address: 508 Church St. / Telephone: 647 349 7469
Just opposite Woody's is a well-known gay bar for it's Drag King / Drag Queen shows. Performances are fun. It has multiple bars, dance floors and patio that you shouldn't miss in summer. Great people. Great LGBT vibe.
---
THE BARN and STABLES
Address: 418 Church St. / Telephone: 416 977 4684
This gay bar has three floors. Each floor has its own character. Mixed crowd, but the second floor is full of dancing hedonists. For the adventurous, explore the darkroom on the third floor. Weekends are crowded.
---
BLACK EAGLE.
Address: 459 Church St. / Telephone: 416 413 1219
This is Toronto's Denim/Leather/SM Gay bar. Enjoy the very cruisy, very enjoyable, very kinky dark room. You'll leave satisfied and with a smile on your face.
---
FLY.
Address: 8 Gloucester St. / Telephone: 416 410 5426
This bar is touted as the Original Babylon in the much-successful LGBT TV series, Queer As Folk. With 12,000 square feet, you have a lot of space to dance wild and check out the guys around while having fun. FLY brings internationally famous DJs who never fail to amaze you with their kind of music. Best parties are hold here.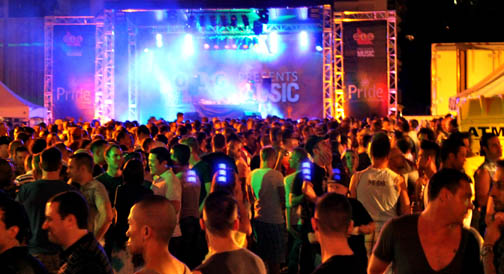 ---
BYZANTIUM
499 Church St. / Telephone: 416 922 3859
This bar is known for its martinis and cocktails. Take a sip while listening or dancing to jazz, broadway and classic house. The decor spells modern chicness where you can always meet your friends here for nice conversations. They've got nice food menu, too! Drinks are pricey.
---
Address: 504 Church St. / Telephone: 416 963 8251
Drag shows to shemales to cabarets, this bar never runs out of pure entertainment. Their nights are always full with shows, so make sure to check their website from time to time.
---
SLACK's.
Address: 562 Church St. / Telephone: 416 928 2151
It's a predominantly lesbian cave but gays are, of course, welcome. It's a resto/bar but they serve food only until 10:00 p.m. The rest of the night is plan lesbian debauchery. On weekends, they've got female DJs playing dance tunes that would leave no one on their seats. The decor is cool.
---
GOODHANDY's.
Address: 120 Church St., 2nd Floor / Telephone: 416 506 4237
This gay bar is full of, what else but---sex: sexy boys, sexy thought, sexy costumes, sexy performances, sexy nights, sexy atmosphere---name it, they have it. It's touted as PANSEXUAL PLAYGROUND, so don't be shy. If you got it, flaunt it! Gays, Bis, Trans are all welcome here.
---
ZIPPERZ / CELLBLOCK
Address: 72 Carlton Street (nearest subway: College station)
This Toronto gay bar is a piano bar with a separate dance floor to show your groove. Sundays are well-attended by everyone who loves retro music in the 70's, 80's and 90's. LGBTs and LGBT-friendly allies are also welcome here.
---
Go Back to the TOP OF GAY BARS PAGE
---
---
Tourist Attractions | Festivals | Dining | Gay Toronto | Museums | Shops / Flea Markets | Nightlife | Arts & Culture | Beaches | Explore Toronto Free | Tours | Parks | Sports | Around Toronto | Winter Events
---