---
Pride Parade in Toronto: The Biggest in North America!
---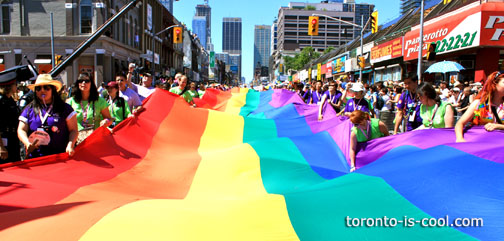 ---
Pride Parade culminates the Pride Week in Toronto. It is the BIGGEST in North America (California, don't argue, please!). With 1.3 million people watching the parade this year, what's bigger than that? The parade is a celebration of the city's diversity, tolerance and acceptance of the GLBT community.
This year, despite the controversy regarding the Queers Against Israeli Apartheid, the parade was still declared a success! Pride Toronto is 30 years old and it's going stronger--and it becomes political, too.
---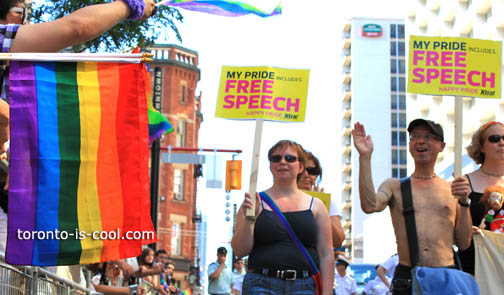 ---
The Pride Parade is well-participated by the GLBT community and its allies. Parade floats are gigantic and occupied with the hottest bodies and beauties to the delight of all.
It's a colorful, fabulous, creative, inventive and the happiest festival of all in summer! Both the audience and parade participants are having fun while getting busy clicking their cameras.

---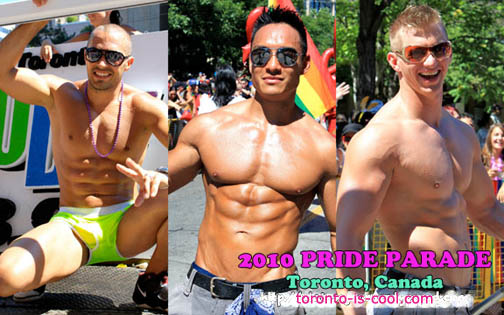 ---
The Pride Week
The Pride Week is fully-packed with schedule of debauchery. The center of the celebration is, of course, in Church Street (aka, The Gay Village). The street itself is closed to make way for street parties, drag and musical performances, shops, food tents, etc...
Pride Toronto invites world-renowned DJs and performers to cater and satisfy the GLBT communities fabulous taste for music. This year, they invited CYNDI LAUPER who performed in a free concert to a packed audience at the park.
During the Pride Week, watch or join these other events, too: Dyke March, Trans March and Family Pride.
---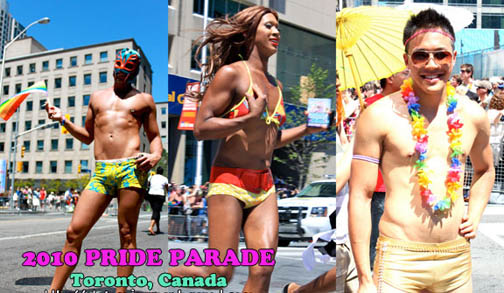 ---
PRIDE PARADE 2011
When: June 24 - July 3, 2011
Schedule of Major Events:
Trans March: July 1, 2011 at 7:00 PM (starts at Church and Hayden Streets)
Dyke March : July 2, 2011 at 2:00 PM (starts at Church and Hayden Streets)
Family Pride : July 2 and July 3, 2011 at 11:00 am - 6:00 pm
THE PARADE : July 3, 2010 at 2:00 PM
---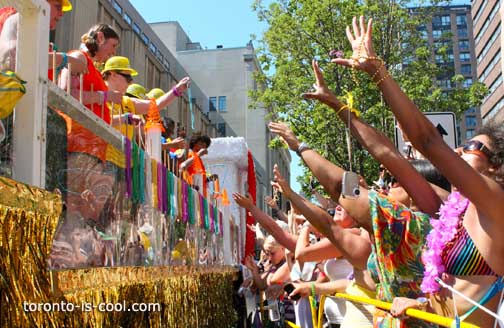 ---
PRIDE WEEK in Toronto has been named as Best Festival in Canada. The Province of Ontario ranked Pride Week #1 of the Top 50 Festivals in the Province. It is also one of the Eight Recognized Signature Events in Toronto, the capital of cool.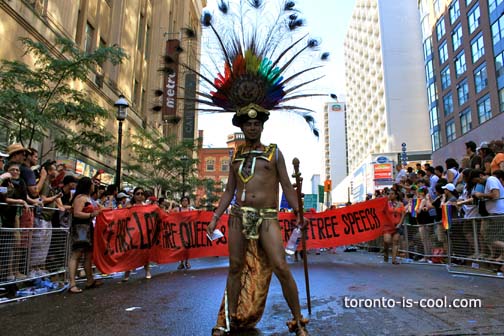 ---
Related Links:
World Pride
Aqua Pride: The Hottest Party in Pride Week
Pride Parade
Gay Bars in Toronto
Gay Saunas

---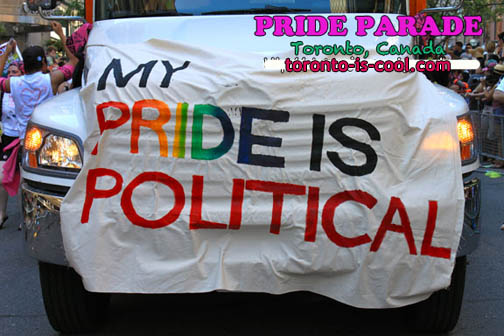 ---
Tourist Attractions | Festivals | Dining | Gay Toronto | Museums | Shops / Flea Markets | Nightlife | Arts & Culture | Beaches | Explore Toronto Free | Tours | Parks | Sports | Around Toronto | Winter Events
---