---
---
Trans March 2011 in Toronto
---
Trans March is an event for all transgendered. It is the same event as Dyke March but mostly led, of course by transgenred / transexuals / inter-sex members of the GLBT community.
This event, which originated in San Francisco, California in June 2004, is celebrated every Friday night of the Pride Weekend, two days before the Pride Parade itself.
"The purpose of the event is to increase visibility, activism and acceptance of all gender-variant people."
---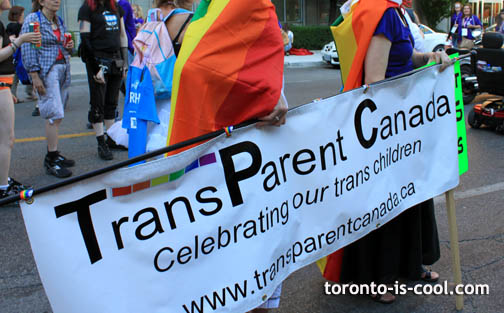 ---
Details of the 2011 March
The march is always participated in by a huge trans population in Toronto and across Canada who would visit the city for the Pride Week / Weekend. PFLAG (Parents and Friends of Lesbians And Gays) also attends the march to support the trans. Participants are encouraged to bring posters, banners, tarpaulins or cross dress. Well, just be themselves, actually.
WHEN: July 1, 2011 / Friday
TIME: 8:00 PM
MEETING PLACE: Church and Hayden Streets
MARCH ROUTE: From Church and Hayden Streets, the march moves south on Church and Alexander.
And, yes, of course, a huge street party happens after the march.
---
World Pride
Aqua Pride: The Hottest Party in Pride Week
Pride Parade in Toronto
Gay Bars in Toronto
Gay Saunas
Dyke March in Toronto
Go back to the Top Page of Trans March
---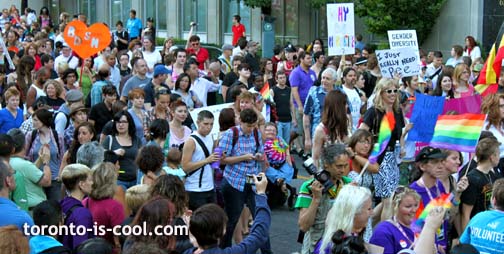 ---
Tourist Attractions | Festivals | Dining | Gay Toronto | Museums | Shops / Flea Markets | Nightlife | Arts & Culture | Beaches | Explore Toronto Free | Tours | Parks | Sports | Around Toronto | Winter Events
---