---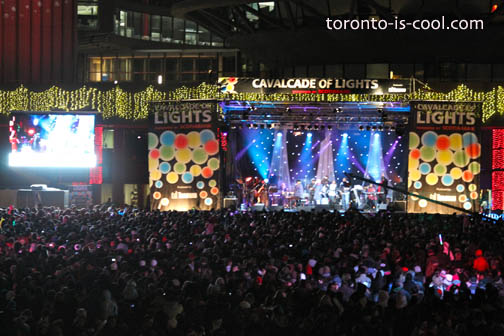 ---
Cavalcade of Lights
---
Cavalcade of Lights is an annual celebration to welcome the Christmas Season by lighting Toronto's Official Christmas Tree and fireworks display. The event is highly-attended despite the coldness of early winter season. People--young and old are in high spirits to witness a one-hour show that invites popular JUNO winners and nominees on stage to perform pop and holidays songs.
This year, this festival of lights celebrates its 44th year and they prepare a spectacular evening show in honour of the first lighting of the Cavalcade of Lights display.
---
---
2010 Cavalcade of Lights Performance Schedule
This fabulous events is held on November 27, 2010 at Nathan Phillips Square. The nearest subway would be Osgood Subway Station or Queen Subway Station. It's on the corner of Bay Street and Queen Street West.
Here's the Schedule of the Performances:
7:00 - Holiday Medley led by Wade O. Brown
7:10 - Duet: Glen Lewis and Ivana Santilli
7:15 - Tree Lighting Ceremony
7:20 - Haut Vol (Trampoline Performance)
7:25 - Concert with Sarah Slean, Shawn Desman and Divine Brown
8:00 - Fireworks Display
8:10 - Skating Party: Celebrating 40 Years of JUNO Awards with DJ Tony Sutherland
---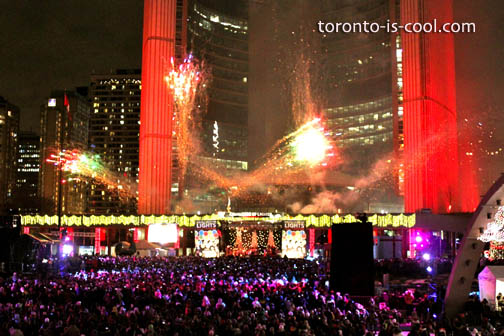 ---
Lighting Display
The lighting display at Nathan Phillips Square is an annual holiday tradition featuring the lighting of the official Christmas Tree with more than 100,000 energy-efficient LED lights that shine from dusk to 10pm every night throughout the holiday season until January 1, 2011.
---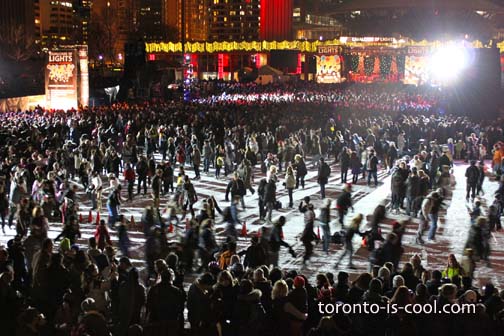 ---
PARTICIPATING NEIGHBORHOOD LIGHTING
Throughout the Christmas season, the brilliant lights extend beyond Nathan Phillips Square as brilliant creations of light beautify the city in the following neighborhoods:
Albion Islington Square BIA
Bloor-Yorkville
Corso Italia BIA
Emery Village BIA
Greektown on the Danforth
Little Italy
Rosedale Main Street
St. Clair Gardens BIA
The Waterfront BIA
---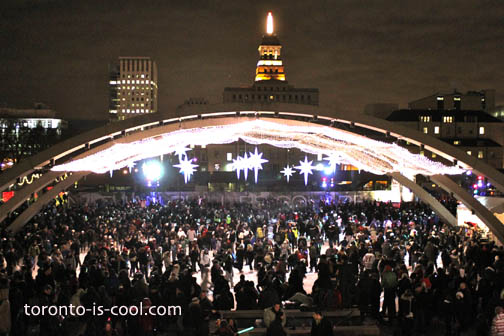 ---
Skating at the Square
Skating under the lights at Nathan Phillips Square is a marvelous experience for skating enthusiasts. The outdoor skating rink is open to all (children to oldies) who knows how to skate and to those who are fearless to try the ice sport.
Above the skating rink are three solid arches that is officially named as Freedom Arches to signify the belief that "only in freedom can Human Spirit soar."
The outdoor skating rink is open (if weather permits) from late November throughout Winter season. Details about the hours of operation and skate rentals, call 311, 24/7.
---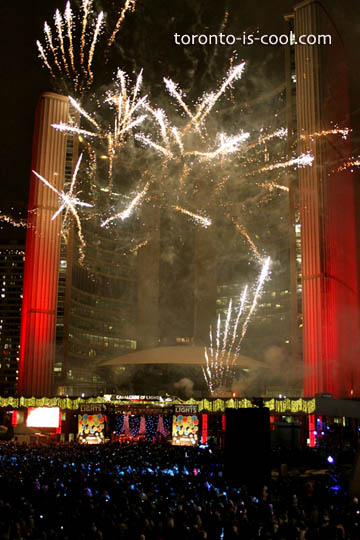 Event website
Go back to the top page of CAVALCADE OF LIGHTS
Tourist Attractions | Festivals | Dining | Gay Toronto | Museums | Shops / Flea Markets | Nightlife | Arts & Culture | Beaches | Explore Toronto Free | Tours | Parks | Sports | Around Toronto | Winter Events
---