---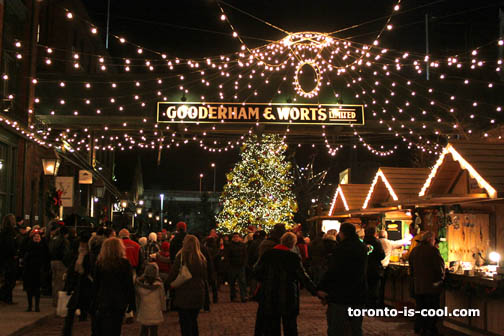 ---
Christmas Market in Toronto
The Christmas Market in Toronto celebrates Christmas in its traditional form. It's a market where the real spirit of Christmas is the central point of the event. There are activities throughout the ten-day celebration. If you forgot what Christmas means in this commercial-fueled holidays, this joyful celebration will bring you back to the Christmas you knew when you were a child. Call it, rediscovering the Christmas holiday magic!
The Christmas Market originates from Dresden, Germany back in 1434. Since then, the event branched out worldwide and the event attract visitors both locals and foreigners.
IN TORONTO, this year, the celebration will capture Christmas tradition and showcase unique, local handicrafts. Carolers, Musicians and children's choir will grace the occasion, too, to perform Christmas-themed songs and plays. And yes, Santa and his elves will be there, too!
---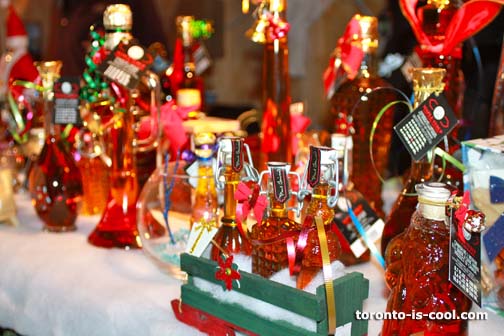 ---
2010 Schedule of Activities
Friday December 3, 6pm
Official Opening Ceremony / Lighting of Christmas Market / Special musical performance by The Canadian Tenors
Saturday December 4, 5pm (Children's Lantern Parade)
Sunday December 5, 5pm (Eve of St.. Nicholas Day celebration)
Monday December 6 (St. Nicholas Day--all day celebration)
Tuesday December 7 (Free Ferris Wheel rides)
Saturday December 11, 5pm (Children's Lantern Parade)
ADMISSION IS FREE
---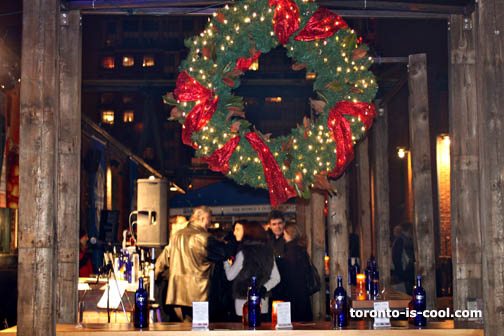 ---
Where and When is the Christmas Market?
---
This holiday event will be at the historic
Distillery District
on
December 3-12, 2010
. The market will only be open from
noon to 8:00 pm
.
The event will feature the following Christmas musts:
Massive Christmas Tree . Be amazed at the 40-feet high tree that will illuminated by 18,000 lights and Christmas ornaments. It will be lighted on the Opening Night.
Magical lighting and seasonal decor . Enjoy and marvel at the traditional Christmas lights and decors to add romance to the venue. See. Smell. Taste. And Feel Christmas.
Musical Entertainment . What could be something better than hearing joyous Christmas carolers? The Christmas-themed stage will be a host to performers who will make the visitors smile, laugh and maybe, cry.
Holiday-themed Stage Presentations and Workshops . If you go there daily, better join workshops and presentations which will hosted by various well-known speakers. Get your hands busy on how to make Christmas decors at home.
Ferris Wheel . No fear of heights? Then, this one is for you. Ride and see the panorama of the historical Distillery District at night. Have fun.
Traveling Elves . Traveling elves will be the paparazzi of the night. They will be taking pictures of visitors around and they'll mail them to you in 24 hours. But, don't forget to drop something at the Toronto Star Santa Claus Fund.
Variety of mulled wine and beer gardens . Since this tradition originated from Germany, a beer is, of course, present. And, yeah, mulled wine, too!
Santa/s Lane . Children will certainly love this lane which features a fairy tale forest maze, Santa's house, Rudolph's reindeer zoo, children's story-telling, Santa's elevs workshop, a ginger bread house and Santa Mail.
---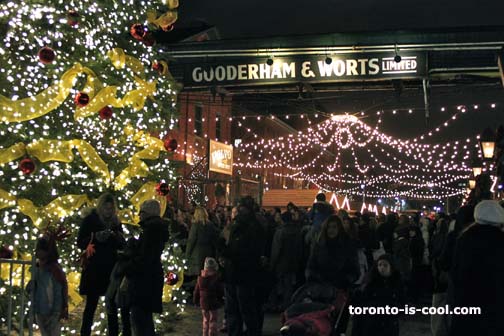 ---
Directions / How to get there:
Address: 55 Mill Street, Toronto, ON / Telephone: (416) 364-1177
By Subway: Exit at Castle Frank Subway Station. Transfer to Bus 65A to Parliament. Get off at Front Street and walk one block south to Mill Street.
By Street Car: Exit at King Subway Station. Transfer to King street car 504. Get off at King and Parliament. Walk two block south on Parliament to Mill Street.
By Bus: Take the Cherry Bus 172 in Front and Bay to Cherry Beach via The Esplanade and Mill Street. Exit at Trinity.
---
Go back to the top page of CHRISTMAS MARKET
---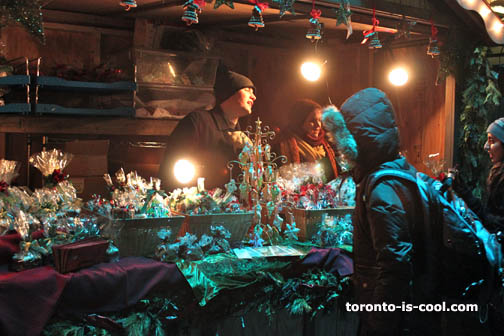 ---
Tourist Attractions | Festivals | Dining | Gay Toronto | Museums | Shops / Flea Markets | Nightlife | Arts & Culture | Beaches | Explore Toronto Free | Tours | Parks | Sports | Around Toronto | Winter Events
---