---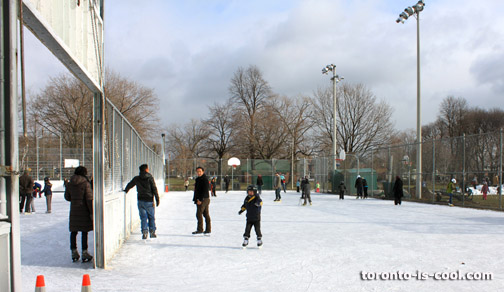 ---
Dufferin Grove Park
---
Dufferin Grove Park Outdoor Skate Rink is just one block south of Dufferin Station. It is located right across of Dufferin Mall.
The Park has an impressive lists of facilities during summer and winter seasons.
IN SUMMER
Wading Pool - Opens from the end of June to the end of August, 7 days a week from 11:00-6:00 pm. But, if temperature reaches more than 29 degrees Celcius, the pool stays open until 7:30 pm.
Sand Pit - This is the children's ultimate playground that feels like they're in the beach, of course. The park provide round shovels for the kids to use. They can make sand castles, dig holes and bury their feet on the ground. A little sand box for the younger kids is also available.
Cob Courtyard - This is the park's food facility where families enjoy doing activities together. It has sinks, water, toilets, electricity, a baby change area, a green roof, mosaic tiling, plants/gardens and a fireplace. Check out and sit on their benches. They're a work of art.
Farmer's Market - Opens all year-round, every Thursday, from 3:00 - 7:00 pm. Fruits, vegetable, pastries, seafood and spices.
Picnic Tables - Call 416-392-0913 or talk with staff via email: staff@dufferinpark.ca to ask for permits.
---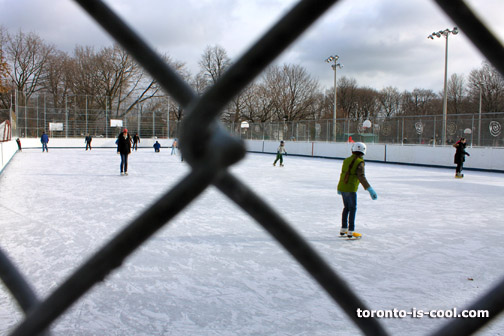 ---
Skating at Dufferin Grove Park
---
The skating rink at
Dufferin Grove Park
is open to all those who want to skate and those who want to learn how to skate.
Skate Rental: $2 (Monday - Sunday ; 9 am - 8 pm)
The Rink is open from November 27, 2010 to March 13, 2011
SKATING SCHEDULE
Monday - Saturday / 9:00 am - 9:15 pm (Bear in mind that after (9:00 pm., the pad is open but UNSUPERVISED.)
Saturday and Sunday / 9:00 am - 9:00 pm (Skate in the round on both ice pads are until 5:00 pm)
The rink lights are turned off after 11:00 PM. And the rink will also be locked.
HOLIDAY OPERATION
On Christmas Day, Boxing Day and New year's Day, the rinks are open to public but the washrooms and warm-up areas are CLOSED. Call 416-392-0913 if you have more questions.
ICE MAINTENANCE SCHEDULE
During the maintenance, skaters MUST leave the ice. Usually, the hockey pad is usually scraped first.
Here's the schedule:
Monday-Friday (7am-9am, 11:45am, 3:15pm, 7pm and 8:55pm)
Saturday (8am, 11:45am, 2:45am, 5:15pm, 8:55pm)
Sunday (4:55pm, afternoon as needed, 8pm)
---
SHINNY HOCKEY SCHEDULE
Shinny Hockey programs at Dufferin Grove Park are for all levels are also available but in different schedule during the week.
Wednesday
| | |
| --- | --- |
| All ages | 9:00 am - 3:15 pm |
| Level 2 | 3:30 pm - 5:30 pm |
| Level 1 | 5:30 pm - 7:00 pm |
| Level 3 | 7:15 pm - 8:55 pm |
| PERMIT | 9:00 pm - 10:00 pm |
Tuesday
| | |
| --- | --- |
| All ages | 9:00 am - 3:15 pm |
| Level 2 | 3:30 pm - 5:30 pm |
| Level 1 | 5:30 pm - 7:00 pm |
| Level 3 | 7:15 pm - 8:55 pm |
| Women's Drop-in Shinny | 9:00 pm - 11:00 pm |
Monday, Thursday, Friday
| | |
| --- | --- |
| All ages | 9:00 am - 3:15 pm |
| Level 2 | 3:30 pm - 5:30 pm |
| Level 1 | 5:30 pm - 7:00 pm |
| Level 3 | 7:15 pm - 8:55 pm |
| PERMIT | 9:00 - 10:00 pm |
| Drop-in Beginner | 9:00 pm- 10:00 pm |
Saturday
| | |
| --- | --- |
| All ages | 9:00 am - 11:455 am |
| Level 1 | 12:30 pm - 1:45 pm |
| 9 and under | 1:45 pm - 2:45 pm |
| Level 2 | 3:00 pm - 5:15 pm |
| All Ages | 5:30 pm - 7:00 pm |
| Level 3 | 7:00 pm - 8:55 pm |
| Youth One-time Shinny Program (Email: staff@dufferinpark.ca) | 9:00 - 11:00 pm |
SundayAdult Beginner Program (9:30 pm - 11:00 pm). To register, email Dan at outdoor.shinny@gmail.com
SHINNY HOCKEY LEVELS KEY
All Ages - all ages and skill levels welcome
Level 1 - 12 years old and under with caregiver/beginner
Level 2 - 13 - 17 years old / medium-paced
Level 3 - 18 and over / fast-paced
9 and under - 9 and under with caregivers
---
---
Go back to the top page of DUFFERIN GROVE PARK
---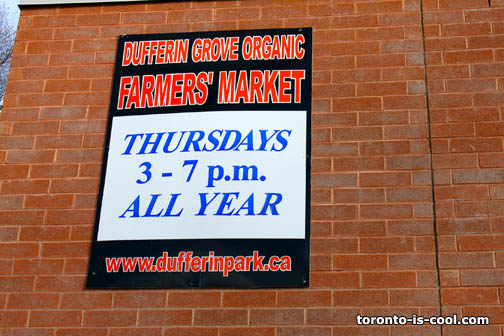 ---
Tourist Attractions | Festivals | Dining | Gay Toronto | Museums | Shops / Flea Markets | Nightlife | Arts & Culture | Beaches | Explore Toronto Free | Tours | Parks | Sports | Around Toronto | Winter Events
---