---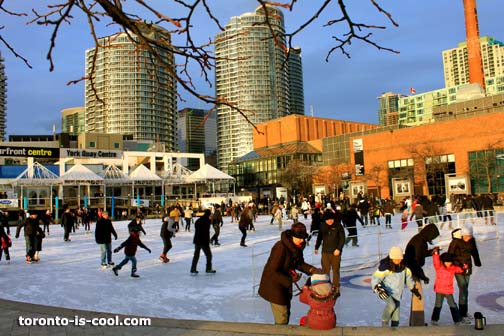 ---
Skating at Harbourfront Center
At Harbourfront Center, everything you ask for is there--within distance: restaurants, cafes, shopping, art gallery, cinemas, etc...
There are over 100 skating classes in Harbourfront Center Natrel Rink for kids, teens and adults-beginner to pro!
The Natrel Rink is, perhaps, the most perfect place to skate in Toronto. The rink is spacious and it's just meters away from Lake Ontario. On a sunny afternoon, the sunset is a magnificent vista that serves as a backdrop of children, teens and adults skating through the ice while music is playing in the air!
---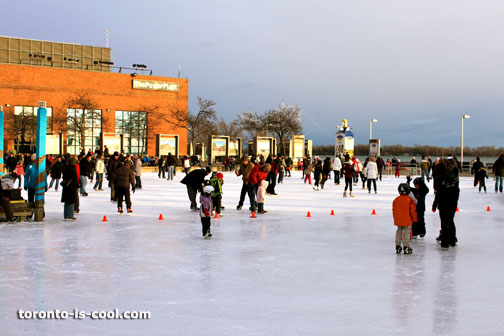 ---
Skating Info
SAFETY is foremost concern at The Natrel Rink. So, they require the skaters who will be taking skating classes to wear CSA-approved hockey helmets or winter-rated helmets. Bicycle helmets are not allowed. Wear clothes that allow you to move freely.
For private skating lesson or group lesson, call 416-973-4093.
Skate Rental
Admission is FREE for those who have skates.
For those who don't have skates, you can rent them for $7. Helmets are also available for $5. Please take note that when renting skates/helmets, a government-issued ID with photo is needed.
Change rooms are available and coin lockers are for $1.
Hours of Operation
Mondays to Sundays : 10 am - 9:00 pm
On December 24 and December 31: 10:00 am to 3:00 pm
Closed on December 25, December 26 and January 1.
---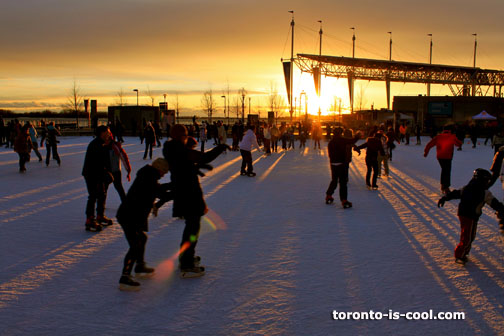 ---
Skate Culture: DJ Skate
---
Skating is a culture at Harbourfront Center!
Every Saturday Nights, while you skate on the ice, Toronto's hottest DJs play music that would make you feel like an Olympic moment. Glide through the ice and dance to the tunes like a professional figure skater! Who knows, an agent might be watching you and train you, seriously, for the next Winter Olympics?
DJ SKATE SATURDAY NIGHTS SCHEDULE
December 2010
December 4
Cherry Bomb, featuring Cozmic Cat and Denise Benson
December 11
Flow 93.5's DJ P-Plus with special guest DJ Romeo
December 18
Skating with 1 Love T.O.
January 2011
January 8
World at Your Blades, featuring DJ Medicineman
January 15
Promise, featuring DJs Irving Shaw and David McLeod
January 22
44th and Filth, featuring DJs Andy Reid, Simon Jain and YUG
January 29
Cumbia: Ice Cold, featuring Estilo Bakanchido
February 2011
February 5
Motown Mizer, featuring DJ D. Brown
February 12
Soca on Ice, featuring Dr. Jay De Soca Prince
February 19
Masala! Mehndi! Masti! GhuMMMo Skate Paty!
January 29
Cumbia: Ice Cold, featuring Estilo Bakanchido
---
Directions / How to get there
Nearest Subway Station:
Get off at UNION Subway Station and transfer to 509 Streetcar (Union/Exhibition). Get off at Queen's Quay.
From SPADINA Subway Station, take 510 Streetcar (Union/Spadina). Get off at Queen's Quay.
---
Go back to the top page of HARBOURFRONT CENTER
---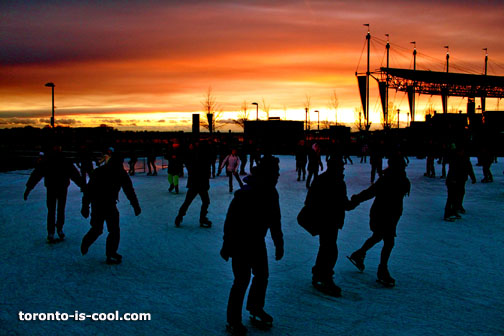 ---
Tourist Attractions | Festivals | Dining | Gay Toronto | Museums | Shops / Flea Markets | Nightlife | Arts & Culture | Beaches | Explore Toronto Free | Tours | Parks | Sports | Around Toronto | Winter Events
---