---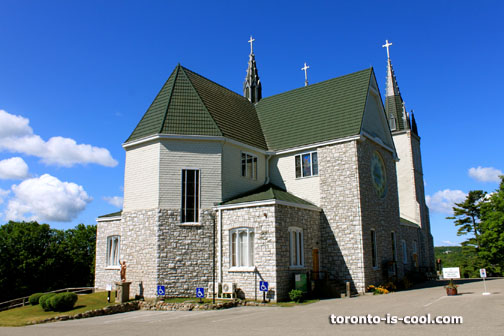 ---
Martyr Shrine
---
The Martyr Shrine
is an hour and a half drive from Toronto---that is during summer. It is a Gothic-style church that lies beautifully and preserved on a hill overlooking Lake Ontario.
If you are a believer and has faith in the Catholic Church, you should visit this Shrine and be in deep prayer---in a huge cross outdoor in the middle of a quiet, green surroundings. It's a perfect place for meditation.
The Martyr's Church is well-preserved and well-visited by its Catholic devotees. Though it's small in size, the church and its surroundings has planted crosses of different martyrs in different nationalities. There's a Lithuanian Cross, St. Lorenzo Ruiz Shrine (Filipino), St. Francis of Asisi, Belarusian Cross, Holy Family Shrine (Italy), Slovenian Cross, St. John Neumann Shrine (German), St. Andrew Kim (Korean), and some more.
---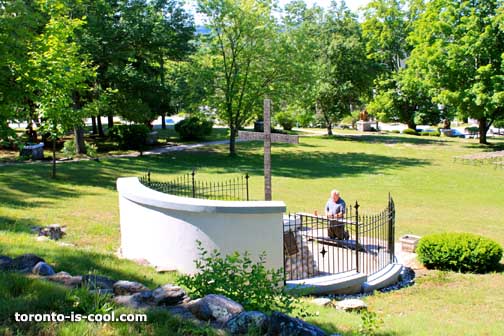 ---
Martyrs' Shrine is a scared ground where people of many nations and cultures gather to enter into communion with those all over the world who sacrificed their lives for faith and for justice.
On September 15, 1984, the late Pope John Paul II visited this tiny Shrine and said, "And here today stands the Martyrs' Shrine, a symbol of Hope and Faith, a symbol of Triumph of the Cross."
Important Reminder:
From May to September, the Shrine is open for Pilgrimages of different nationalities. In winter time, however, the Shrine is closed. It will re-open on May 14, 2011.
For directions on how to get there, refer to their website.
---
Go back to the top page of Martyr Shrine

---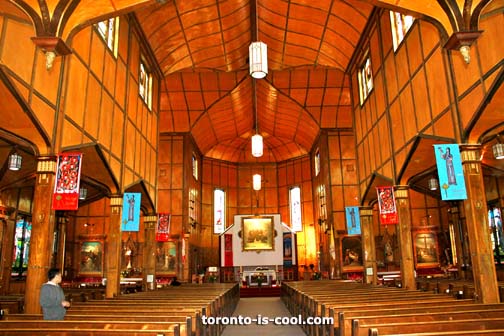 ---
Tourist Attractions | Festivals | Dining | Gay Toronto | Museums | Shops / Flea Markets | Nightlife | Arts & Culture | Beaches | Explore Toronto Free | Tours | Parks | Sports | Around Toronto | Winter Events
---