---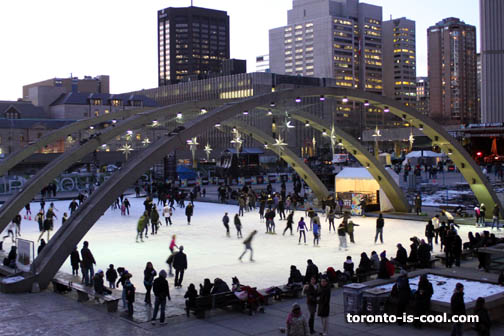 ---
Nathan Phillips Square
Nathan Phillips Square is named after a mayor of Toronto from 1955 to 1962. It is Toronto's main square bustling with sorts of cool events and festivals in summer. It is centrally located right in front of the City Hall.
A statue of Sir Winston Churchill by Oscar Nemon is hard to miss in the square. Stop for a while and read the plaque for the man whose "faith and leadership inspired free men to fight in every quarter of the globe for the triumph of Justice and Liberty."
Also, stare in amazement at Henry Moore's sculpture / masterpiece named, The Archer, right in front of the City Hall. The Square also has outdoor chess tables. And beneath the Square is the world's largest parking lot which can occupy 2,400 cars!
In Summer, when the heat is unbearable, a lot of people come together around the pool where three arches hover above it. These arches are called Freedom Arches which "The Citizens of Toronto dedicates it the millions who struggled including Canadians, to gain and defend freedom and to the tens of millions who suffered and died for the lack of it."
At the base of the center arch, find a piece of Berlin Wall that lays there.
---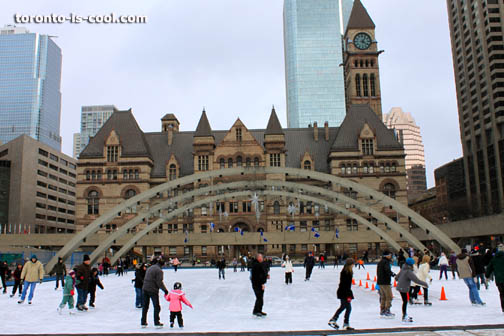 ---
Skating in Winter
In Winter, the pool is transformed into an outdoor ice skating rink where people of all ages and walks of life skate like Winter is Always Fun! Though it could be overwhelmingly crowded at some times, but it still a fun place to glide in the ice like a pro.
No doubt, Nathan Phillips Square is a fun place to skate.
It is FREE to skate at the rink if you have your own ice skates. If none, you can always rent. Indoor change rooms are also available to skate fanatics.
CITY SKATE RENTAL PRICES
Adults ($10) for 2 hours rental
Children - 12 years old and under- ($5) for 2 hours rental
Gloves ($5)
Hot Shot Mitt Warmers ($4)
Socks ($5)
Hats ($5)
Remember: No refunds. Accepts Cash Only.
HOURS OF OPERATION: Monday to Sunday: 10:00 a.m. - 10:00 p.m.
---
Directions / How to get there
Address: 100 Queen Street West
Nearest subway Stations:
Nathan Phillips Square is both accessible by Osgoode Subway Station and Queen Subway Station. It's a few minutes walk from these stations.
---
Go back to the top page of Nathan Phillips Square
Tourist Attractions | Festivals | Dining | Gay Toronto | Museums | Shops / Flea Markets | Nightlife | Arts & Culture | Beaches | Explore Toronto Free | Tours | Parks | Sports | Around Toronto | Winter Events
---