---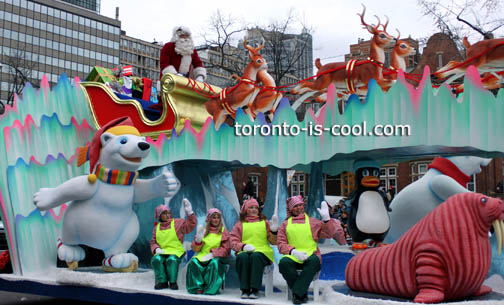 Santa Parade: Spreading Christmas Spirit and Cheers in Toronto!
Santa Parade in Toronto is the biggest event to welcome the Christmas season and to spread Christmas spirit and cheers! Thousand of families go out to the streets to witness Santa Parade despite the chilly, cold weather in November. Children are in festive mood and brave the coldness until Santa's float pass them by. Even the adults are infected by their enthusiasm to see the big guy in red clothes. Excitement are all written in everyone's faces and the fun never ends! Christmas is felt everywhere! Some children write letters for Santa which will be collected by Santa's marshalls.
---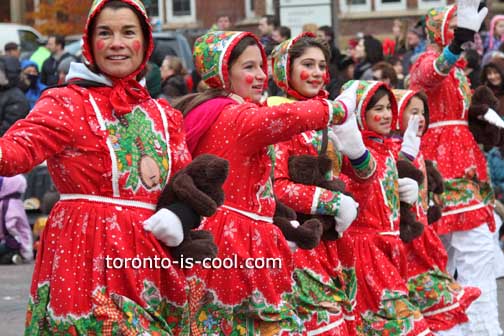 ---
The Parade
More than a thousand people are in costumes to the delight of both children and adults. It's priceless to hear children guess the names of characters in the parade and how they extend their arms for candies and other children stuff.
Aside from the participants, Santa Parade is never complete without floats from major sponsors: Eaton Center, McDonalds, Lego, Toys R Us, Mattel, Lowe's Metro, Hasbro, Duracell, Sobey's, Walt Disney, Canadian Tire, Coca-Cola, SmartCenters, Kraft Foods, Sears, Pizza Pizza, Tim Horton's Play Station, RedPath, Warner Bros, etc...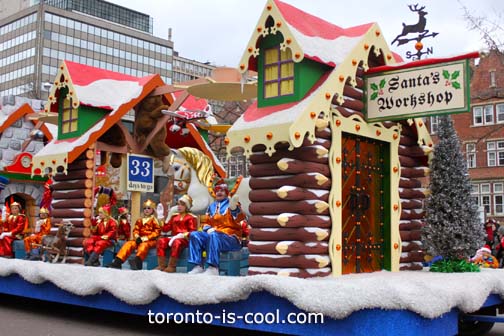 ---
Parade History
It all started in 1913--with only one float--which Santa rode on it! And guess what, Eaton Center had a live reindeer to pull the big guy! In 1817, the biggest float was a giant swan with a band of musicians and clowns---with Santa on the center of it. Since then, the Swan has become a permanent fixture in the parade which is re-invented in many different forms every year! In 1976, Santa's route (7.5 miles) was extended longer because people were clamoring for it. In 1980, its 75th year, the Parade went global! In 1989, the Santa Claus Parade formed an alliance with Russia just as the Soviet era was coming. It's in this same year when the parade was broadcasted to 250 million viewers in Soviet Union.
Today, the parade floats are a mix of everything that entertains children. From movies, to toys, to food to dresses, the crowd is delighted to see them all!
---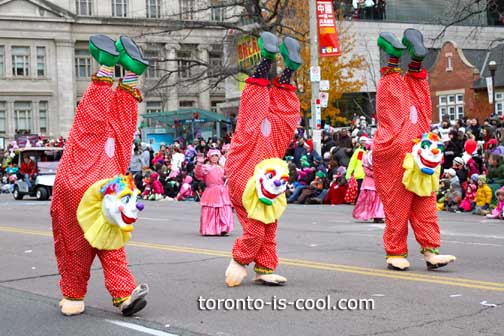 Parade Route
The Parade starts from Christie Pit. It goes to Bloor then to University Avenue. It passes through Dundas, then Yonge to Front Street. It ends at St. Lawrence Market.
---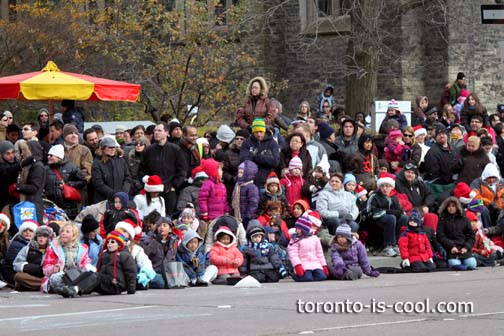 ---
Best Place To See The Parade
Anywhere along the routes, but make sure to be there early as the best spots are filled up easily. You can bring your own portable chair and wear clothes that helps you survive through chilly November air.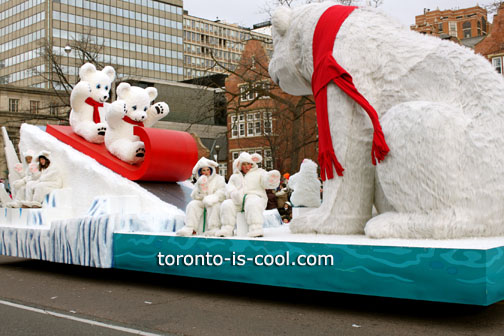 ---
Go back to the top of SANTA PARADE
Tourist Attractions | Festivals | Dining | Gay Toronto | Museums | Shops / Flea Markets | Nightlife | Arts & Culture | Beaches | Explore Toronto Free | Tours | Parks | Sports | Around Toronto | Winter Events
---