---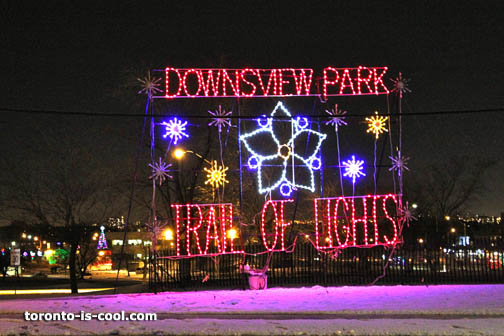 ---
Trail of Lights at Downsview Park
---
The Trail of Lights at Downsview Park is a magnificent show of more than 400,000 LED lights that brighten the dark winter night. It's a merry thing to do in Toronto during winter time. It's a tradition for a couple of years that features animation, arches, and other themed displays. The bare winter trees are lit up and the roads are decorated with arches with colorful blinking lights that feels like you are in a wonderland.
---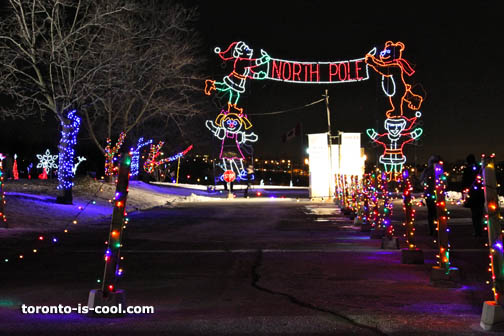 ---
What to See
Once you enter the park and see its sights, you will suddenly be transported into a different land. The
Blizzard Alley
has the largest snowflakes ever to fall in Toronto. Say "Hello" to Santa and his reindeers at
The North Pole
. Enjoy interacting with the animals at
Downsview Park Zoo
. The
Garden of Lights
greets every visitor with three large poinsettia arches. Slow down and honk when you see a leaping 25-feet deer at the
Deer Crossing
. Don't miss to take a photo of Trail of Lights' star,
Cecil the Dragon
, a lovely entertainer! When your stomach grumbles, head to the
Candy Cane Lane
that leads you to the
Downsview Park Gingerbread House.
Cover yourself up when you are at the
Soldier Alley
where 8 toy soldiers are in full animation. Stop and look what they're doing.
---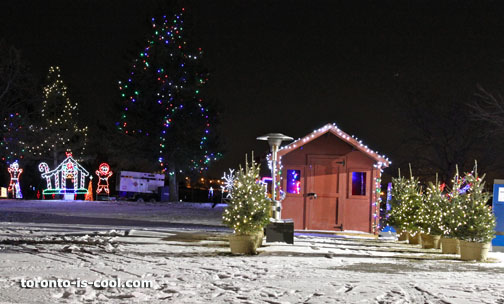 ---
Hours / Nights of Operation / Fees
The Trail of Lights is not open every night. It is closed on Mondays and Tuesdays.
See the following schedule:
Dates: November 26, 2010 - January 2, 2011
Days: Wednesdays to Sunday Nights
Walk-through adventure
On Wednesdays, the roads are closed for vehicles. However, a free parking is provided. Only pedestrians are allowed. If you want to walk your dog in the area, make sure you leash it. Enjoy your stroll and be enchanted at the bright displays of towers, arches, animals, animations, etc...
Keep yourself warm since the walk will last for 40 minutes and there are no shelters where you can protect yourself from the coldness and wind.
Admission Fee:
Adults - $8
Children (4-12 years old) - $4
Prices include services charges and taxes
Drive-through adventure
From Thursday to Sundays, vehicles can drive around and stop on the side road to admire the displays. You can only take photos from your car. However, there are designated places (after exiting the Trail) where visitors are allowed to get out of their car and take pictures with the displays. Speed limit is 20 km/hr and will take 20 minutes.
Admission Fee
Car / Truck / Family Van (limit of 7 passengers) - $25
Limousine / Commercial Van / Mini-bus (limit of 25 passengers) - $25
Tour Bus (School / Coach) - $90
Prices include services charges and taxes

---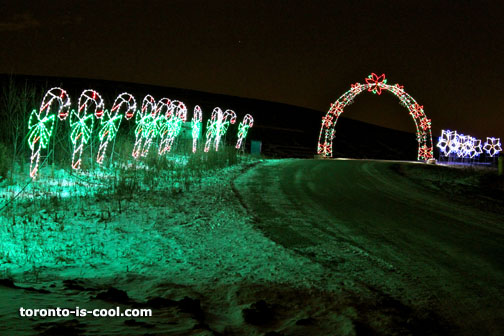 ---
Directions / Getting There
Nearest subway: Downsview Subway Station.
Bus Routes from Downsview Subway Station
Get on the 101 Parc Downsview Park bus and stop at the first stop when you are at the Park gates. You can't miss it. The bright lights / decorations on the side street will never fail to let you know that you are there and in the right place. Or better yet, ask the TTC bus driver to drop you off at the Trail of Lights gate.
Another bus route is the 84 Sheppard West (Westbound). Ask the driver to drip you off at the Park's entrance at Sheppard and John Drury. Walk and follow the lights. You can't miss them.
---
PLACES TO SKATE IN TORONTO
WINTER EVENTS IN TORONTO
100+ THINGS TO DO IN TORONTO
TRAIL OF LIGHTS

---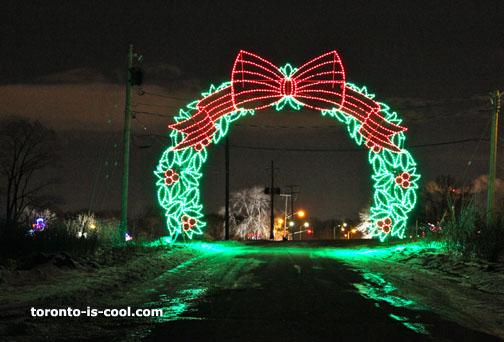 ---
Tourist Attractions | Festivals | Dining | Gay Toronto | Museums | Shops / Flea Markets | Nightlife | Arts & Culture | Beaches | Explore Toronto Free | Tours | Parks | Sports | Around Toronto | Winter Events
---