---
---
Winter Solstice 2010 at Kensington Market
---
Winter Solstice at Kensington Market is an annual celebration to celebrate the beginning of Winter.
Scientifically speaking, Winter Solstice is the the time when the sun is farthest from our planet Earth. Simply put, it is the darkest and longest night of the year!
This celebration is now on its 20th year! It used to be known as, "The Festival of Lights." This is spearheaded by the Red Pepper Spectacle Arts supported by the Ontario Arts Council and Toronto Arts Council.
---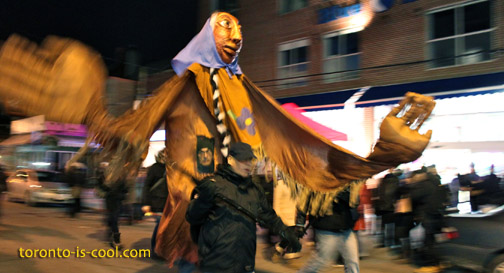 ---
Details of the Festival
---
WHAT:
Kensington Market Winter Solstice
WHEN: December 21st, 2010
TIME: 6:30 PM
WHERE: Kensington Market / Meet at the intersection of Oxford and Augusta Streets
Directions / How to get there:
There are 3 ways to get to Kensington Market by streetcars.
* From the Bloor Subway: take the Spadina or Bathurst streetcar south. Get off at College or one or two stops further south.
* From Yonge/University Subway: take the College or Dundas streetcar west, getting off at Spadina or the next stop.
* From Union Station: take the Queen's Quay/Spadina streetcar. Enjoy the ride along the lake, where it turns north on Spadina. Get off at Dundas or the next couple of stops.
---
---
Lantern-Making Workshop
The lantern-making workshop is open for everyone who wants to learn--both children and adults. Participants will make their own unique, hand-made bamboo and paper lantern, candle-lit lantern to carry during the Solstice procession on the 21st.
Children must be accompanied by adults.
WHAT: Lantern-making Workshop
WHEN: Sunday Dec. 12th, 2010
TIME: 11:00 AM - 5 PM
WHERE: 25 Cecil Street at Steelworkers Hall (just 2 blocks east of Spadina)
FEES: $10 suggested donation which includes instruction, materials and candle!

---
---
Participating Artists
---
Participating Artists to date:
Phil Cote and Rebecca Baird of the Tecumseh Collective
Samba Squad
Shadowland TheatreElizabeth Cinello and the Hags
Rich Underhill and the Kensington Horns
Michelle Perpaul
Kehewin Native Dance Theatre
Larissa Pelletario
Gregory Odjig
Michaela Washburn
Raymo Weasel-Moccasin
Pat Bisset
Scott Shibley and the Racoons
Marie Gaudet and Gaa Dibatjimaat Ngashi
Lena Recollet and Jasmine Manning with Shaman.com
The New Model Circus Army
Shannon Olivier
Meghan Simao the SolSticks
Clay and Paper Theatre
Circlesing

---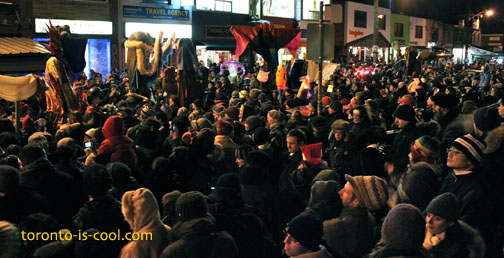 ---
Go back to the Top Page of Winter Solstice
Tourist Attractions | Festivals | Dining | Gay Toronto | Museums | Shops / Flea Markets | Nightlife | Arts & Culture | Beaches | Explore Toronto Free | Tours | Parks | Sports | Around Toronto | Winter Events
---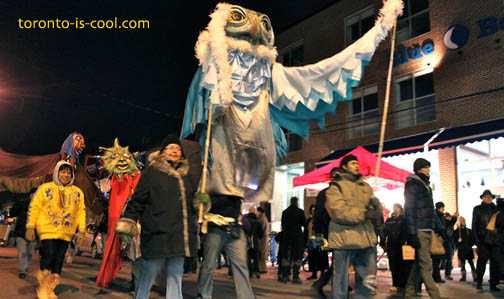 ---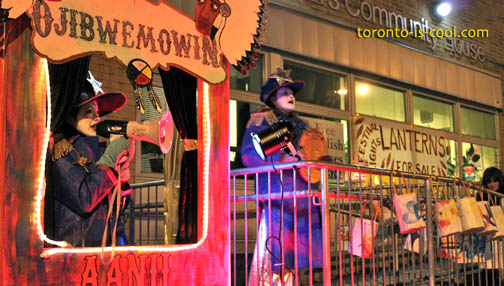 ---
---
---