---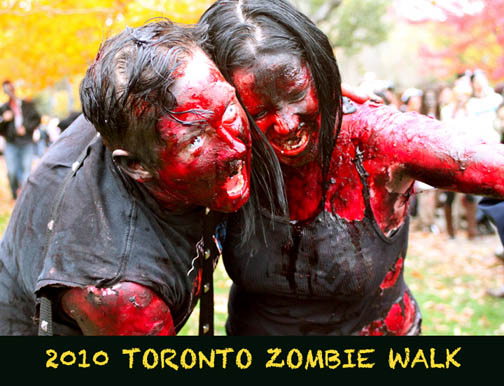 ---
Zombie Walk Toronto
Zombie Walk is, as the name suggests, a parade of zombies. Yes, the zombies you saw from the movies and heard from your grannies! Don't think about just blood and ugly faces, but think about scattered brains, open stomach with grisly intestines, wounded arms and legs, etc...
Toronto Zombie Walk is one cool events that everyone must see, if not participate---in October---ahead of the Halloween Parties across the city.
If you are afraid of the sight of blood and gory creatures walking on the streets in Toronto, better watch it from afar. But, do NOT stay at home and learn from it from the television news.
---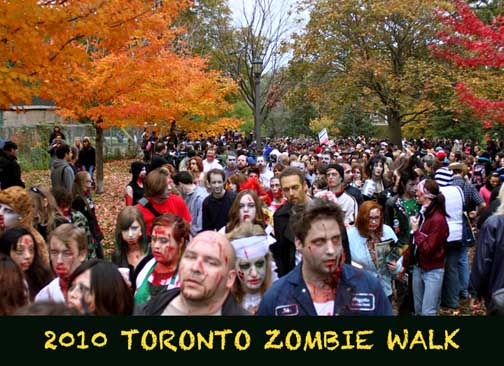 ---
Before the walk starts, the zombies congregate first at Trinity Bellwoods Park for some kind short program and to get to know each other/zombie. Awarding of best costumes are presented and acknowledged. This event is fun when you are with a group of friends. Dress up and scare everyone.
---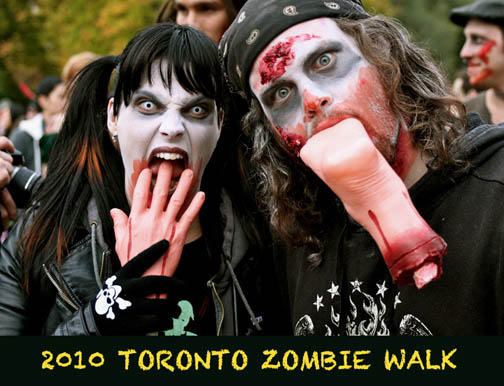 ---
The event is participated by hundreds (or thousands?) of really scary zombies parade the streets of Toronto to the amusement of everyone present. Passengers and commuters on the buses and street cars look at the living dead with disgust and smiles on their faces as the bloody zombies scare them to hell. Private cars honk as they pass by the resurrected zombies.Demons, clowns, psychos, scumdogs, bloody nurses and doctors, murderers, flesh-eaters, dead soldiers, nuns, mohicans, beasts and all other ravenous critters congregated in one hallowed afternoon to proclaim their rights in this universe.

---
---
WHEN: October 23, 2010 / 3:00 PM
WHERE: Starts at Trinity Bellwoods Park and ends at Christies Pits Park
---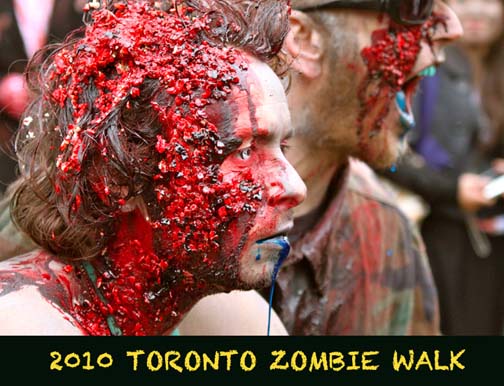 ---
Zombie Walk Rules
Zombies are not as bad as what the the movies portray. They're peace-loving people, like John Lennon. Though they eat brains and all that stuff but they're kind enough not to leave a trace behind.
1. Respect other people's property. Eat brains, but leave no marks behind.
2. Stay off the road, and try to shamble on the sidewalk.
3. Respect other zombies, and the living's personal space. No special mauling rights are given to zombies.
4. You are responsible for your own corpse.
5. Have fun!
---
Go back to the Top page of Zombie Walk

Tourist Attractions | Festivals | Dining | Gay Toronto | Museums | Shops / Flea Markets | Nightlife | Arts & Culture | Beaches | Explore Toronto Free | Tours | Parks | Sports | Around Toronto | Winter Events
---