---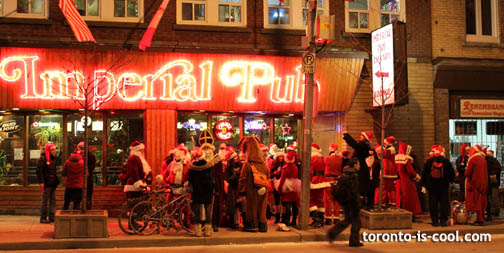 ---
SantaCon in Toronto
---
SantaCon
is coined from two words: Santa + Convention. Literally, it is a mass convention of people dressed in a Santa suit. They parade on the streets and hop on bars around the world. It's an annual event that is taking place in 160 countries around the world during December. If you are in Toronto, one cool thing to do is JOIN SANTACON to spread Christmas cheers and goodwill. This is a cool thing to do in the streets of Toronto!
This event started in 1994 in San Francisco California. Since then, the event spread around the world and has become a tradition. In December 2007, Ireland set the Guinness World Record with 13,000 Santas parading publicly. But, in 2006, 70,000 Santas (obviously, a Guinness representative was absent) walked in cheerful in the streets of Moscow.
Yes, Toronto, has its own SantaCon, too! And do not wait for the next SantaCon to happen next year! JOIN this YEAR!
---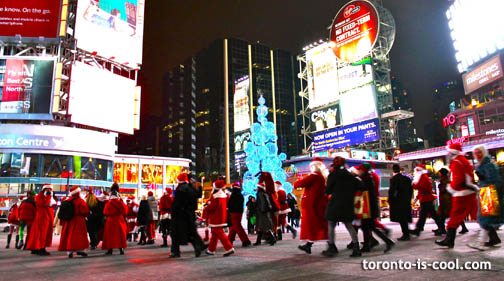 ---
Some Things YOU need to know
---
So, here goes the SANTACON 2010 Toronto!
WHEN:
December 18, 2010 / Saturday

WHERE:
Imperial Pub
54 Dundas Street East
Toronto, ON

TIME
7:30pm - 10:30pm
How we deal with the public is very simple:
Generally speaking, the answer is "SANTA!"
Who's in charge? SANTA
Who are you with? SANTA
What organization are you with? SANTA
Who organized this? SANTA
Who made the Facebook Group ? SANTA
Where did you get the buses? SANTA
Who's that woman? SANTA
Who's that guy? SANTA

---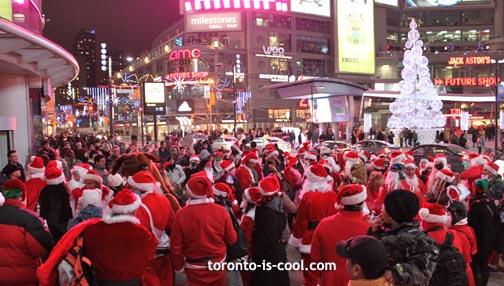 ---
SantaCon Route 2010
The SantaCon Facebook Group released the following route information for this year's SantaCon:
7:00 pm - Meet at the Imperial Pub
7:30 pm - Cavort through Dundas Square and the Eaton Centre
8:00 pm - At Nathan Phillips and gift little kids
8:15 - 9:00 pm - Black Bull (298 Queen St. West)
9:00-10:00 pm - Toika (471 Richmond St.) DJ and Drink specials.
10:00 - 11:00 pm- Tattoo Rock Parlour (567 Queen West)
11:00 - 12:00 am- Hideout (484 Queen St. West)
(We gotta get here by 11, because there is a band coming on.

12:00 - 12:30isham - Cherry Cola's Rock n' Rolla Cabaret and Lounge (200 Bathurst near Queen) GROUP PHOTO!!! This place is plush red velvet...it is Santa's dream!
12:45 - 2am - Dog's Bollocks (817 Queen W. at Niagara) Good spot to fuel up on pub grub before your after hours adventures...
See you all there.

---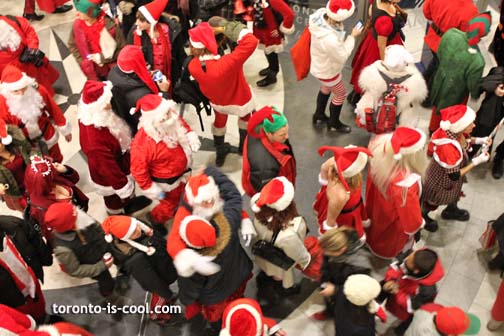 ---
Santa DO's and DON'Ts
---
SANTA DON'Ts
DON'T FUCK WITH THE COPS.
If the cops tell you to do something, DO IT. If you want to get busted, do it when you and I aren't dressed the same.
DON'T FUCK WITH STORE SECURITY.
If they ask you to leave a store, get the hell out and be nice about it, or other Santas will take shit for it. Besides, they might call the cops and then we're dealing with the first fuck.
DON'T FUCK WITH LITTLE KIDS.
Seriously, this is supposed to be fun. Holidays are unpleasant enough for some kids these days. If we can't brighten it at least we can be one less worry for them. If you see kids, give them nice toys, candy, or something pleasant. Feel free to urinate on their parents. Remember: The kids of today are the weirdoes of tomorrow.
DON'T FUCK WITH SANTA.

SANTA DO's
DO address every Santa as Santa, in the first, second, and third person, singular and plural.
DO have something ready to hand out, even if it's just candy canes.
DO many thorough soaks of your cleaning product containers before storing liquor in them. (If you haven't already done so, it may be too late to start now.)
DO be ready for new adventure at a moment's notice. Santa is like a shark, and must keep moving in order to thrive.
DO uphold the hallowed tradition of Never Washing the Suit.To see where else in the world Santa will be rampaging check out the Global Santa Con movement at: http://santarchy.com/
Mark your calendar!
DECEMBER 18TH, 2010!
Ho! Ho! Ho! Ho! Ho!
---
OTHER THINGS TO DO IN WINTER
Cavalcade of Lights
Christmas Market
Santa Parade
No Pants Subway Ride
SantaCon
Santa Speedo Run: Santas Almost Naked
Trail of Lights in Downsview Park
Winter Solstice Celebration in Kensington Market
100+ Things To Do in Toronto

---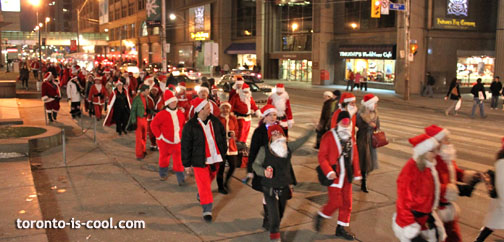 ---
Tourist Attractions | Festivals | Dining | Gay Toronto | Museums | Shops / Flea Markets | Nightlife | Arts & Culture | Beaches | Explore Toronto Free | Tours | Parks | Sports | Around Toronto | Winter Events
---